Or,
The Customer Value Chain is Only As Strong as its Weakest Link
This is an epic tale about my electric broom, but more importantly, it's story about:
How your company can do everything right, and still fail to deliver on the promise of customer value
How a lack of aligned priority and perception between you and your vendor can break the value chain
How a failure to recognize opportunities for creating value, creates opportunities for failure.
Read on…
Contents
1. The Epic Tale of My Broom
On Thursday, 2/26/2015, I ordered a $35 electric broom from Amazon.
I do most of my shopping at Amazon, because I can usually get the best deal there, I can comparison shop, and I don't have to park nor wait in line at a "big box" department store.
When you purchase on Amazon, you often get a "Guaranteed" delivery date – mine was Monday, 3/2 – and, as I would expect, I was promised free 2-day shipping.
1.1. Monday, 3/2
Checking Monday morning, I verified that UPS was the carrier, and my broom was "out for delivery".
That evening, Nothing.
I waited a little while, and Still Nothing.
A little while later, the package status was updated to "Delivered".
I checked the front door… Nothing…
I figured I'd wait until the morning, just to be sure, and if there's no update, I'd contact UPS.
1.2. Tuesday, 3/3
I checked the front porch ONE MORE TIME, plus the surrounding area, to make sure my package wasn't cleverly disguised as a door mat or potted plant.  No such luck.
I checked the status online, and confirmed that it was still marked as "delivered".
At about mid-day, I contacted the shipper, UPS, via online chat.
"Did you check?", they asked.
"Yes", I replied
"Did you check under the…"
"Yes, I checked under the…"
"OK, well, the shipper will have to open an inquiry, you can contact Amazon customer support at  http://some_link"
…
"Can I help you with anything else?  No?  Goodbye!"
I was in shock.
I expected, "hey, the driver didn't get it delivered in time, and the status was incorrectly marked, but it's on the truck today, and you'll have it by noon"
I expected, "hey, we're not sure what happened, but obviously your satisfaction is important, and we'll figure it out"
I did NOT expect, "hey, it's not our problem"
1.3. In the Story, A Hero Emerges
Without closing the UPS chat window, I opened an Amazon chat window.
I described the problem to the Amazon rep, who asked me exactly one question:
"Do you want to replace the product, or receive credit?"
Well, I still have no broom, so I opted for replacement!
Amazon replaced it with no questions asked!  (Well, ONE question asked)
A few hours later, I got an updated order notification and tracking details, indicating a "Guaranteed" (I'll continue to use finger quotes for "Guaranteed") delivery date of Wednesday, 3/4.
So not only are they replacing my product, but they're shipping it via 1-day (overnight) in order to make sure I'm a happy Amazon customer.
So, Amazon is the hero in all of this.
Amazon handled the situation perfectly.
1.4. Wednesday, 3/4
A major weather front was moving in, expected to create nation-wide delays.
So, even though I initially got an "expected" delivery date of 3/4 from the courier (again, UPS), and a "Guaranteed" delivery date from the vendor, I expected not to get my package on time.
What I did NOT expect was an e-mail from Amazon, apologizing for UPS's failure to deliver, due to inclement weather.
What I did NOT expect was to look up my tracking information, and receive NO PROJECTED delivery date.
1.5. Thursday, 3/5
Things across the country started to thaw, but my projected delivery date was still frozen!
To add insult to injury, I got a "packaging survey" from Amazon, regarding the first electric broom that UPS lost!
"Hey, we just felt like reminding you of the fact that you've been waiting a whole week!"
1.6. Friday, 3/6
By Friday, the majority of the country was thawed, and I expected some kind of concrete update.
The UPS website still indicated "Delayed Due to Weather", with no projected delivery date!
Amazon sent me YET ANOTHER feeble excuse, about how my package was delayed due to "inclement weather".
You might think, at this point, that I'm being a little harsh – I will PROVE my case later.
1.7. Saturday, 3/7
No Update!
UPS is open on Saturday.  Considering that they are supposedly "behind due to inclement weather", I would have expected some kind of status.
1.8. Sunday, 3/8
No Update!
(I'll explain my expectations later)
1.9. Monday, 3/9
Initially, no update!
Everything was frozen for basically, ONE DAY, so… how long are they milking this?
Mid-day, I got an update that the package was "out for delivery"
FINALLY!
I got my package at 7:30 PM, Monday evening, 3/9.  NINE BUSINESS DAYS after I ordered it.
2. Analysis
What happened?
What went wrong?
A LOT!
2.1. Guaranteed Delivery Date
I placed my order on 2/26 (Thursday), and received my confirmation, along with a "Guaranteed" delivery date.
Amazon "Guaranteed" that I would have My Broom on Monday, 3/2!
Let's dive in to this a bit…
Yes, thank you, Google.
"A formal promise or assurance"
So, for Amazon to "Guarantee" that My Broom will reach My Door by end of day, 3/2, they must have formal Service Level Agreements (SLAs) in place with the couriers, who are their vendors.
You can't "Guarantee" someone, that you'll have their stuff there by a certain time, unless YOU YOURSELF have a "Guarantee" from the courier, backing up YOUR "Guarantee" to your customer.
I am, of course, required to quote Princess Bride:
I don't think that word means, what you think it means.

-Inigo Montoya
You can't make a "Guarantee" to your customers, unless you directly control the infrastructure supporting that promise, nor without all of your supporting vendors also agreeing to that promise.
2.2. My Speculation About Monday 3/2
Here is what Amazon says happened on Monday, 3/2: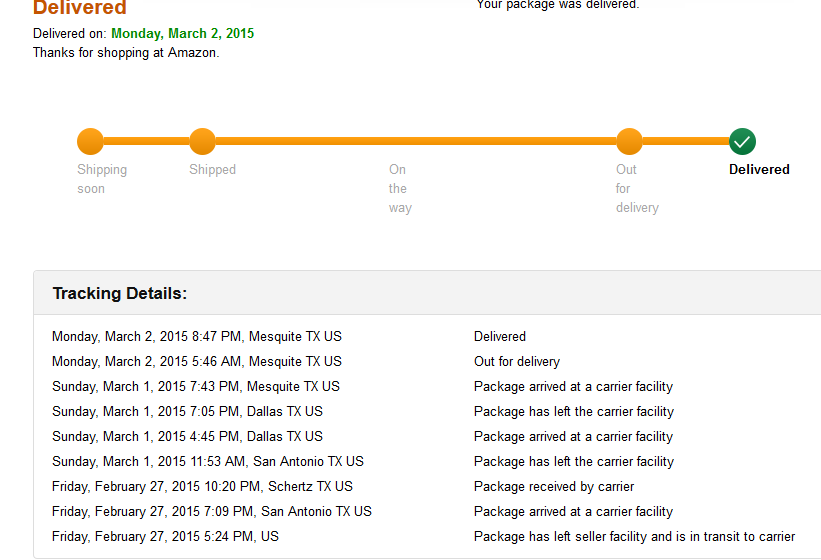 Here is what UPS says happened on 3/2:
Clicking on "Proof of Delivery" reveals:
Since no official explanation was provided (and, apparently, none is required and therefore none will be forthcoming), I'll just cover the three basic possibilities.
Benefit of the Doubt.  The Driver misread the address.  Not impossible.  I would expect UPS to be able to at least track its worldwide fleet of vehicles using Satellite Global Positioning System (GPS), and to have event correlation based on GPS.  UPS should be able to tell me where the driver or the truck was located when the package was delivered.  I should be able to click on a Google Map link, without necessitating a "Package Inquiry", which apparently, only the sender can initiate!



What do I expect?


This is a tough situation.  Obviously, you expect people to be honest, but realistically, if UPS isn't tracking it, a dishonest person can simply claim that they never received the package.  UPS has "proof of delivery" at my address.  UPS should be able to locate the exact address where the package was ACTUALLY delivered, contact the resident, and at least attempt to recover the package, and deliver it to me.


Corrupt Driver.  The driver was at the end of his run.  Knowing that drivers are tracked by time and route, he hit the end of his route, still had my package, and realized that he had to get rid of it.  He knows that "proof of delivery" is like saying "I've been to Antarctica" – regardless of how improbable, it's possible, and therefore can't easily be DISproven.  He simply drops MY BROOM off the back of his truck, and marks it as "delivered".  The UPS tracking system instantly generates "proof of delivery" at my address.



What do I expect?


I expect UPS to have controls in place to prevent the driver from claiming he did something that he did not do, either intentionally or otherwise, and to monitor problems through issue tracking, so that they can provide additional training and monitoring where needed.


Corrupt System.  UPS knows that they have contractual penalties for not meeting their dates.  They also know that they control "proof of delivery", and can basically demonstrate whatever they want.  They can throw MY BROOM off the back of the truck, and claim they delivered it, placing Amazon in the position of having to trust UPS (their vendor) over me (their customer).  In a worst-case scenario, the shift supervisor and the driver are in cahoots, knowing that Amazon seems to automatically covers any lost packages, and have a healthy side business selling a few Amazon packages per day that the driver claims "were delivered".



What do I expect?


First, I expect Amazon to have enough control over their vendor to prevent this from happening.  Contracts should include meaningful Key Performance Indicators (KPIs), specified performance levels, and penalties for poor performance.
Second, I expect UPS to have appropriate internal controls and monitoring to prevent this from happening.  Shift and staff rotation, issue / problem tracking, and closer monitoring should all be employed, in addition to a better method to correlate what the driver says he did, compared to what actually happened.


2.3. Amazon's Handling of the Situation
TOP NOTCH.
They replaced the product.  No excuses.
The only criticisms I can offer:
Don't solicit feedback on a product that got lost!
Don't apologize on behalf of a vendor – in this case UPS is the courier that caused all of the problems!
2.4. UPS's Handling of the Situation
2.4.1 The Lost Package
As soon as UPS saw that Amazon was the shipper, they dropped me like cold, raw fish!
They pushed the entire issue back on Amazon, knowing that Amazon would just ship me a new one!
No apology, and without accepting any responsibility, they simply said, "go talk to Amazon, here's the link".
The message UPS creates by doing this:
We value the shipper over the recipient
It's more likely that I can't find my package, and less likely that they made a mistake
Since we DON'T have to deal with it, we WON'T.
Translation:  UPS views me as an Amazon customer, NOT a UPS customer.
2.4.2 The Delayed Package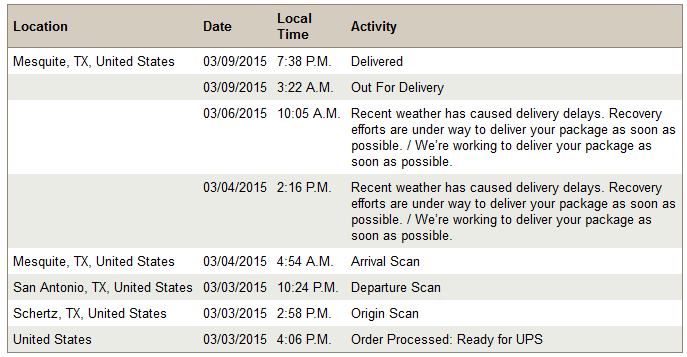 The level of failure by UPS is spectacular.
Remember that I contacted Amazon on 3/3 (Tuesday).  You can see that Amazon processed the order, and once again, UPS picked it up.
Amazon clearly paid a higher rate for overnight shipping, in an attempt to maintain my perception of value, and remedy the situation.  (Again, kudos, Amazon)
The package arrives early the next morning, in Mesquite, TX (3/4, early AM).
Initially, the status was "out for delivery".
Due to severe, nation-wide, inclement weather, there was a delay.
No one is going to refute the fact that you can't drive a big, brown box truck on a sheet of ice.
The entire Dallas-Fort Worth area declared a severe weather condition, beginning late Wednesday afternoon, going in to Thursday.
I GOT AN UPDATE AT 2 PM THAT MY PACKAGE WAS DELAYED DUE TO INCLEMENT WEATHER.
MY BROOM was on that truck, and it got recalled at 2 PM Central time.
I understand the decision based on potential liability, to recall their fleet.  Delivering MY BROOM isn't worth someone getting injured.  I AGREE with that decision.
However, the roads were passable until well after 5 PM.
My first criticism:  Try JUST a little harder!  The entire fleet didn't have to go running back to home base at the first sign of a snow flake.  Make JUST A FEW more deliveries, and leave it up to the driver's discretion.  UPS DIDN'T EVEN TRY.
Thursday was legitimately bad, and many roads were impassible until late in the afternoon.
Again, no one, myself included, expects someone to risk their life to deliver an electric broom.
By Friday, the schools were open, and the DFW area was mostly back to "business as usual."
I expected to get MY BROOM on Friday, considering Amazon had originally overnighted it, and it had basically sat on the truck for two days.
Why would UPS not prioritize service that had originally been expedited, over normal deliveries?
I got another excuse from Amazon, stating that my package had been "delayed due to inclement weather".
If my package was somewhere in the midwest, where the roads were still icy, I could accept this excuse.
MY BROOM was ON A TRUCK headed TO MY HOUSE on WEDNESDAY.
Nothing changed between Wednesday and Friday – they didn't have to drive across the arctic tundra to deliver it.  They had to drive about 3 miles from the local UPS hub to my house.
My second criticism:  There should be some plan to address customers who have already been affected by delays, and then catch up to current.  Customers should be prioritized based on SLA.
If I pay for overnight service, MY PACKAGE SHOULD BE THE FIRST ONE OFF THE TRUCK.
From my perspective, UPS spent the time "catching up", rather than attempting to keep the promises that THEY have made to their customers – whether their customer is Amazon or myself.
If someone bought something that shipped on Friday, why not give THEM SOME of the delay, thus spreading the delay around a little bit?
A lot of people will tolerate a LITTLE bit of delay, especially in the face of a national event such as inclement weather, compared to a few people who are LESS likely to tolerate a LONG delay (SUCH AS MYSELF).
My third criticism:  Again, just TRY A LITTLE HARDER.
It's like "inclement weather" was a "get out of jail free" excuse for UPS.  It seems like they just walked away until they felt like coming back to work.
Here is how I would have approached it:
Roughly 50% of the packages were delivered.
I would have asked for volunteer sorters and drivers to sleep on campus or at a nearby hotel.  This is standard practice for any large company – critical operations staff stay on site during a weather event, to ensure that business doesn't just "stop".
I would have used the sorters to re-pack the undelivered packages in to as few trucks as possible.
I would have used the drivers to send out the "leftover" trucks, one at a time, as the roads became passable.
Nothing happened until Monday.  I would have paid 24 x 7 overtime starting Friday, to get everything caught up to current by Monday, including making Saturday / Sunday deliveries.
Other than the Amazon updates stating "delays due to inclement weather", I received NO communication.
My fourth criticism:  UPS should have set and managed customer expectations – in this case, MY expectations.  They should have given me a projected delivery date on Friday.
If UPS can't operate THEIR BUSINESS in inclement weather, then YOUR BUSINESS can't trust them.
UPS should know exactly what impact inclement weather should have on operations, and they should be constantly reformulating service level impact projections.
The bottom line is that I should have had my electric broom by Friday afternoon.
UPS didn't try, because they didn't care.  They didn't care, because Amazon isn't forcing them to care.
3. Value
My perception of value as an Amazon customer is based largely on cost, but also include intangible elements, such as ease of use, good and timely service, and favorable policies.
My perception of value regarding UPS is a function of Amazon:
They have negotiated discounted or "free shipping" rates based on specified criteria
They always deliver my order
They deliver my order on or before the date expected
In my situation, not only did UPS lose my first order, but they severely delayed my replacement order!
This damaged my perception of value regarding UPS, and it damaged my perception of value for products that I purchase through Amazon that are subsequently shipped through UPS.
In this case, Amazon did everything right, but UPS managed to create not just one failure, but two!
UPS completely broke the value chain.
Had I asked for a refund rather than a replacement, I could have driven to Target THE SAME DAY (Tuesday), and bought the same electric broom for a few dollars more, nearly a week sooner.
That's a major problem!
Amazon paid for 2nd day shipping on the first package.  They had to eat the cost of the lost package, and THEN paid for overnight shipping.
I paid $35 + tax for my electric broom.  At this point, Amazon paid their margin, TWICE, plus about $10 for 2 day shipping, plus about another $17 for overnight shipping.
UPS walked away with $27 of my $35, leaving Amazon about $8 to cover the cost of TWO brooms.
3.1. Opportunities for Amazon
Develop Key Performance Indicators (KPIs) – UPS performance measurements that directly affect Amazon's business, such as meeting the "Guaranteed" dates, customer satisfaction, and loss / error rates.
Establish a contractual basis for meeting minimum service levels, as measured by KPIs
Conduct weekly service level monitoring meetings with UPS to review KPIs
Most importantly, avoid vendor lock-in.  Establish a relationship with other regional and national shippers, and when UPS falls down on their commitment, penalize them by giving more business to their competitors.
3.2. Opportunities for UPS
UPS needs to TRY HARDER.  Just TRY.  No one at UPS even seemed to care about my situation, and no one at UPS did anything to resolve it.
I waited 9 business days for something I should have received in 2.
UPS seems to value the shipper over the recipient.  This is clearly a missed opportunity.  Actually GETTING THE PACKAGE, and GETTING IT ON TIME are two major portions of the value chain.
In some ways, UPS should value the recipient over the shipper, because it's the recipient who has to be happy, in order to use the shipper's services again!
UPS needs to step up and take ownership for any service issues, and then take steps to resolve them.
4. Summary
Amazon did everything right.  Future opportunities exist to reign in UPS by renegotiating contracts, to establish KPIs and minimum service levels (SLAs), while enforcing accountability through penalties and alternate contracts with UPS competitors.
Do NOT Apologize for someone else's failure.  If you are responsible, take measures, make changes, do what you have to do.  If you're NOT responsible, hold subordinates and vendors accountable.
UPS did everything wrong.
Broken Amazon value chain
Failure to recognize the recipient's value in the shipping process
Failure to establish and maintain accountability
Failure to set and manage customer (MY) expectations
Failure to establish internal controls, limiting loss and theft
Don't be like UPS.   Be like Amazon.