STOP USING STICKY STICKERS AS PRODUCT LABELS!
We've all done this 1,000 times…
You purchase a piece of wood, or worse, a piece of fruit, peel the sticker, and it completely self-destructs, leaving bits of sticker, and a sticky residue.
First of all, Did YOU SAY FRUIT?
Yep.
Scientifically, pretty much any portion of a plant with seeds in it is a fruit.
According to the law, what differentiates a fruit from a vegetable is mostly intangible, but has consequences around taxation.  And most recently, nutrition.
Apparently, by the court, "anything that is normally served with dinner" is a vegetable, while "anything normally served as desert" is a fruit.
So, yes, the following are fruits, and for whatever reason, fruit (or vegetable?) vendors seem to think that putting a sticker on it, makes it a better product:
Tomatoes
Peppers
Squash of various types
The problem is that you don't normally skin these fruits.
If you want to put a sticker on a fruit, citrus makes the most sense – I give not one thought about stickers on an orange, tangerine, lime, lemon, or even avocado because these specific fruits are encased in a thick, bitter, pithy skin that one normally removes before use.
Thus, if a sticker is attached to that skin, and if said sticker leaves a sticky, disgusting residue, who cares?  I remove the skin before use, and the sticker with it.
BUT…
If you put a sticker on a pepper or a tomato or an eggplant, unless I scrub the crap out of it, or remove that portion of the skin, I get to eat your tasty glue residue.  Yummmy.
Why Stickers?
Can be applied automatically
Simple way to attach the UPC code
Branding (If you put a sticker on fruit for the sole purpose of brand recognition, you're a jerk)
(Theoretically) removable without damaging the product
Why I HATE Stickers
They NEVER come off cleanly, even if they are designed to do so.
Even good stickers leave behind a sticky residue.
BAD stickers simply shred apart, leaving paper AND a sticky residue.
Stuff that Stickers Ruin
Buying a stuffed toy for your child (or someone else's)?  A sticky patch of fur makes your gift so much better.
Anything with a refined or finished surface?  YEP, LET'S SLAP A STICKER ON IT!  So, literally, removing the sticker messes up the exact reason I was buying whatever the surface happens to be attached to.
Sticky stickers on clothing results in sticky clothing that sticks.  To you.
I have cookware, such as plastic bowls, that I know for a fact are 10+ years old, that still have a sticky blob of goo on the bottom.  YES, they have been scrubbed.  YES, they have gone through the dishwasher more times than I can count.
Etc…
Frangible Stickers
The only thing worse than stickers are stickers that are DESIGNED to break apart.
Presumably, this keeps people from shoplifting, or swapping labels.
However, attempting to remove a frangible sticker results in THIS mess: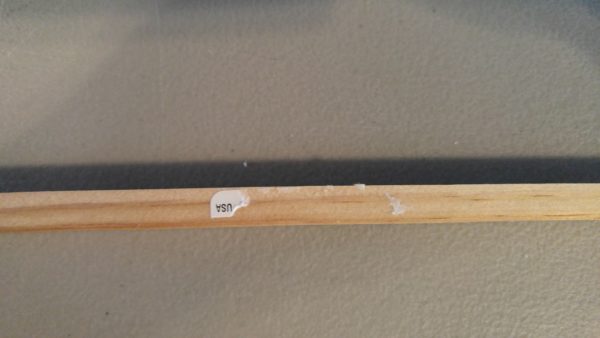 Better Options
Use lasers.  A laser can quickly burn or etch a product logo and / or UPC code on just about anything with a smooth surface.
User better glue.  Use stickers with a modern glue (like post-it notes) that are much easier to remove.
Attach stickers to areas of the product that are normally discarded.  For example, peppers, tomatoes, and eggplant all have a stem or core that won't be used.  Wood has two ends – by definition, the minute you make one cut, you've discarded one of them.
Use tags instead.  A loop and tag can be installed in an automated fashion, probably almost as inexpensively as a sticker.  Those plastic loops aren't exactly trivial to remove, and a tag can do anything a sticker can do.
Self-destructing stickers SUCK!  Please stop using them!