In 1984, the battle for the future was fought in the present.  Which of course is now in the past.  In the movie, "The Terminator", we saw the T-800 model 101 take round after round, and survive fire, crashes, and explosions as it carried out its mission to kill Sarah Connor.
In "Terminator 2: Judgement Day", Sarah tells John that "these things are really hard to kill", having narrowly been able to kill one at the end of "The Terminator".
So that begs the question:  If a Terminator (T-800) came after you… right now… in the NOW present… how would you kill it first?
Contents
1. Cyberdyne Systems Series 800 Model 101
A "terminator" is an infiltration and assassination unit – a machine designed to look and act like a human for the purpose of infiltrating human bases in order to eliminate human resistance (through termination).
In "The Terminator", Kyle Reese remarks:
Kyle Reese
The 600 series had rubber skin. We spotted them easy, but these are new. They look human… sweat, bad breath, everything. Very hard to spot. I had to wait till he moved on you before I could zero him.
In a flashback, we see Reese return to base, which is shortly thereafter attacked by a "terminator" infiltrator – probably a 700 series:
In the future, just as John Connor is about to defeat Skynet, it makes a "hail mary" play, sending one of it's state-of-the-art T-800 infiltrator units back in time to kill John's mom – Sarah Connor – before John can be born.
When the terminator arrives in 1984, we see that it's Arnold.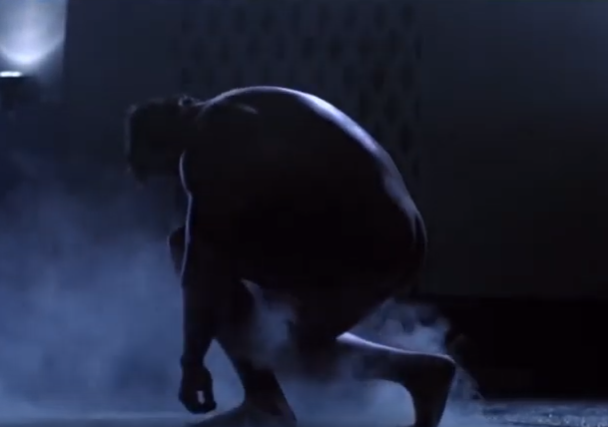 As a matter of fact, "model 101" is the "Arnold" model – all model 101 units look exactly like Arnold, as we see later in T2, T3, Salvation, and Genisys.
Presumably, there is a model 100 as well as a model 102, etc., who look like other people.
Some people refer to this as the T-101, but 101 was the specific model, not the series. – for simplicity and clarity, I will simply refer to the "Arnold" series generically as the T-800 endoskeleton without a specific skin.
John:
Now don't take this the wrong way, but you are a Terminator, right?

Terminator:
Yes. Cyberdyne Systems Model 101.
In T3, "Arnold" is a series 850 (T-850) model 101, where again, model 101 is the "Arnold" model.  Since the 850 is an upgraded 800, I won't differentiate between the two, unless specifically discussing T3.
A terminator consists of a biological matrix covering a robotic skeleton.  Later, we learn that only biological material can travel through time – the T-800 can do so only by the virtue of its bio covering, compared to Kyle Reese who can travel through time, but arrives naked and without equipment.
Here, we see the T-800 after incurring some battle damage as a result of its initial conflict with Kyle Reese at the Tech Noir club, followed by the shoot-out at the police station.  Its face and hair have been burned, and his skin has been damaged.  It can still pass as human, but only with the help of really cool sunglasses.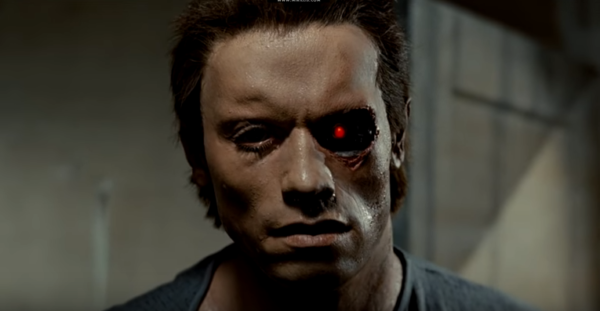 At the end of "The Terminator", after his flesh has burned off in the smoldering remains of the truck explosion, we see the robotic skeleton – the terminator itself – emerge from the flames.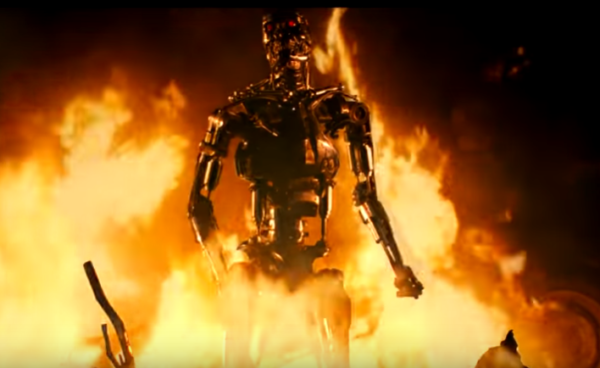 Despite Kyle's earlier warning, it's at this point that Sarah realizes the true horror of her situation:  This machine will stop at nothing to kill her.
Kyle Reese:
Listen. Understand. That Terminator is out there. It can't be reasoned with, it can't be bargained with…it doesn't feel pity or remorse or fear…and it absolutely will not stop.  Ever.  Until you are dead.
In a deleted scene from "Terminator 2: Judgement Day", we see that the terminator can be reprogrammed by removing its chip, and setting the switch from read-only to read-write.
John Connor:
Can you learn stuff you haven't been programmed with so you could be… you know, more human? And not such a dork all the time?

The Terminator:
My CPU is a neural net processor; a learning computer. But Skynet pre-sets the switch to read-only when we're sent out alone.

Sarah Connor:
Doesn't want you doing too much thinking, huh?

The Terminator:
No.
Despite being in "read-only" mode through the entire first movie and half of the second, we see the T-800 exhibit highly-adaptive behaviors, such as analysis, deception, and mimicry.
Presumably, the "read-only" setting refers only to its core mission objective and parameters, and setting the switch to "read-write" allows those to be changed.
In "T2", after the chip is set to read-write, we see the T-800 become more inquisitive, and eventually adapt its mission parameters to include a much broader scope than simply protecting John from the T-1000.  Somewhere along the way, it learns the value of life, and that it must end its own existence in order to protect humanity from the threat that Skynet could eventually re-emerge on a later timeline from his own ruined parts, repeating the events subsequent to the first movie, that presumably led to the rise of Skynet.
1.1. Characteristics and Capabilities
The T-800 is completely ruthless and systematic.

It will stop at nothing to finish its mission, often wantonly killing, injuring, or destroying in the process.
In the first movie, because it doesn't have exact historical information, we see the T-800 obtain a phone book listing, and systematically kill each and every Sarah Connor.
In T2, we see the terminator bypass hostiles and other threats because protecting John is it's only goal.
After losing Sarah at the police station, we see the T-800 obsessively retrace its steps, eventually reading Sarah's address book, where it obtains the location of Sarah's mom's cabin.
In a similar scene in T2, we see the T-1000 systematically searching John Connor's bedroom.  This conveys the sense that these are machines – they will systematically, and with brute force, check every option until they obtain a result.
Also in T2, after John orders the T-800 not to kill, it systematically shoots every hostile human in the knee cap, which the Terminator views as less-than-lethal force.  It explains to John, "He'll live", after knee-capping the guard at the Pescadero State Hospital, on their way to rescue Sarah.

Physically-resilient. 

In the first movie, we see the T-800 shot, crashed, and burned numerous times without significant damage.  At times we see only superficial damage to its biological matrix.
In "The Terminator", the T-800's hair style is a result of the car fire.  Later, we see it remove a prosthetic eye and swollen flesh so that it can see more effectively.
The first time we see the T-800 receive any functional damage is when it walks with a limp after the truck explodes from Reese's pipe bomb.
After losing both legs and a hand to Reese's final pipe bomb, the T-800 at first appears to be defeated, but shortly recovers, and continues on its mission to kill Sarah.
In T2, the T-800 takes increasing amounts of damage, where you can clearly see the underlying metal skull, but without any significant loss of functionality.
In the first three movies, we see the T-800 survive explosions, multiple car crashes and other extreme physical impacts without any loss of functionality.  This includes a high-speed bike wreck, and being smashed through a building by a crane.

Proficient with vehicles and weapons.

In "The Terminator", we see the T-800 use many different kinds of guns, including pistols, shotguns, and automatic rifles.
We see the T-800 participate in a high-speed car chase, and pursue Kyle and Sarah in an 18-wheel fuel tanker truck.
In T2, we see the T-800 demonstrate a high level of proficiency with a motorcycle.
Also in T2, the T-800 uses a hand gun, a shotgun, automatic rifles, grenade launchers, and the iconic M134 minigun.
During T2, in addition to the motorcycle, the T-800 drives a station wagon, a tactical van, and a small pickup truck.
The T-800 tends to drive quickly and precisely.  At one point in T2, Sarah admonishes him that speeding will attract attention:
Sarah:
Keep it under 65. We don't wanna get pulled over.

Terminator:
Affirmative.
Extensive analytical capability, especially regarding planning and tactics.

In the first movie, we see the T-800 systematically track Sarah.  After she and Kyle are arrested, the T-800 attempts to infiltrate the police station.  Failing that, we see him orchestrate a sudden and massive assault, beginning with driving a car through the lobby, designed to create chaos and prevent the police from organizing a defense.
After losing Sarah at the police station, we see the T-800 retreat to its lair, where it examines Sarah's address book, to try to determine where she would go for help.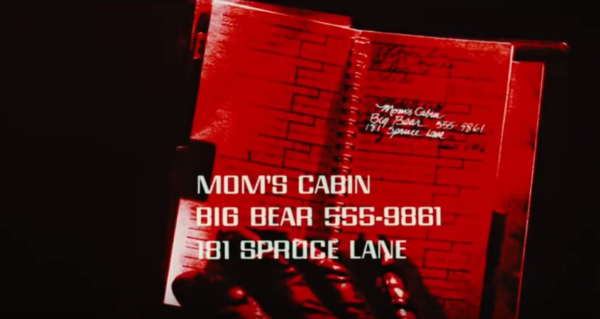 Throughout the course of T2, the T-800 continuously tries to out-guess the T-1000.  The T-800 intercepts the T-1000 before it can kill John – once at the mall, and a second time at the LA river.  It successfully guesses that the T-1000 will try to kill and impersonate Sarah, imprisoned at the Pescadero State Hospital.  When John wants to stop Sarah from killing Dyson, the T-800 remarks that the T-1000 might have anticipated Sarah's move, and might be waiting for them.
In T2, during the police shoot-out at Cyberdyne, the T-800 is able to engage and disable multiple hostiles (without killing!), and break through walls in order to create a safe egress path for Sarah and John.

Infiltration and manipulation through adaptation, mimicry, and voice impersonation.

After the T-800 arrives in 1984, it encounters some punks at the observatory.  Before killing them, it tries to infiltrate by mimicry.
Punk Leader:
Nice night for a walk, eh?

Terminator:
Nice night for a walk.

Punk:
Wash day tomorrow! Nothing clean, right?

Terminator:
Nothing clean. Right.

Punk Leader:
Hey, I think this guy's a couple cans short of a six-pack.
Note:  The blue-haired Punk Leader is played by Bill Paxton
At the gun store, the T-800 obtains weapons from the gun dealer by simply asking for them, before loading one and shooting him.
At the police station, it walks up to the front desk and asks to see Sarah Connor.  It launches the shoot-out only after the infiltration attempt fails.
Later at its lair, as it plans its next move, the janitor confronts it, asking about the smell – the T-800's damaged flesh is beginning to rot.  The T-800 responds with an acceptable response, presumably to allay suspicion.
After Kyle and Sarah escape, they end up at a hotel, where Sarah attempts to contact her mom.

The T-800 was able to anticipate this because it analyzed Sarah's address book.  Unbeknownst to Sarah, the T-800 assaulted the cabin, killed her mom, and is impersonating her mom's voice.

In T2, as the T-1000 attempts to trick John by impersonating his foster mom, the T-800 tricks the T-1000 by impersonating John's voice, but uses the wrong dog's name.  The T-800 infers that John's foster parents are dead, and that he's really speaking to the T-1000, because Fake-Janelle doesn't correct him about the dog's name.  The T-1000 later discovers that it was tricked (in a deleted scene), after it kills the dog, whose correct name is printed on the collar.
At the desert compound, after being prompted by John, the T-800 pretends to be "Uncle Bob", and the other humans at the compound treat him as a human and react to him as a human.

Longevity.  The T-800 uses power cells that last about 120 years.  The reasons for this longevity are two-fold:

Time travel can be imprecise, and should the terminator arrive too far in the past, it can simply wait, dormant, until it has an opportunity to strike.  We see this concept carried out by T-888s several times throughout the "Sarah Connor Chronicles" series.
Once its mission is complete, a long life allows the T-800 to wait, dormant, until it can report its mission status and other information to Skynet in the future.
Note:  The latter situation leads to a paradox.  As Skynet prepares to send the first T-800 back to 1984, it should have known that because, in a previous timeline, the T-800 had not already gone back in time, killed Sarah, gone dormant, and reported back to Skynet in this timeline, that its mission had already failed – no need to send the T-800 back in this timeline. 

However, because the events in 1984 resulted in the creation of both Skynet and its nemesis (John Connor), NOT sending the Terminator back would erase both. 

However, however, John knows that his own genesis depends on the events of 1984 – that he must send his own dad back in time to die in 1984, but John doesn't know of Skynet's genesis as a result of those events.  Skynet is aware of neither, until presumably after the future events of the first movie, which we assume results in the events of T2.
Despite being a machine, it seems to have a human-like reaction time.  We see through term-o-vision that it processes data in real-time, but we see numerous situations where a T-800 doesn't respond with super-human reflexes. 

For example, at the Tech Noir club, a modern industrial robot could draw a gun, chamber a round, and fire multiple times in to Sarah's head in under 2 seconds with perfect accuracy.  Actually, you'd have to slow it down to 2 seconds, as the robot is capable of pulling the trigger faster than the gun can cycle.

Conversely, the T-800 appears to move with normal speed, and perhaps even a bit slow compared to a normal person.  Perhaps we can attribute this to heavy-duty servos and actuators that are geared toward delivering power over speed.

In any case, the average human reaction time is about 0.3 seconds, and we can assume that a Terminator would not be able to exceed that.
[Assumed] One-way communication with the future.  We have to assume that anything the Terminator knows or learns in the present could be relayed to Skynet in the future. 

Things it might report to Skynet include more specific information – for example, now that it knows Sarah's identity, it could pass that information to Skynet, so that it can formulate a more precise attack.  It would also presumably report its mission status at regular intervals, which would give Skynet a general idea of what worked and what didn't work.

In 1984, it's easy to see that a Terminator couldn't just save some information on a USB drive, because none of that existed in 1984.  However, there are several means by which a Terminator could record information that Skynet can later retrieve.

Skynet, knowing what areas were nuked during judgement day, could pre-program the Terminator to plant a time capsule off in the desert, for example, where it wouldn't be found by humans nor destroyed by the nukes, and where Skynet could retrieve it in the future.  The information in a time capsule might include written information, pictures, maps, diagrams, DNA samples, etc.

It's not dificult to imagine that the Terminator itself comes equipped with a "memory stick" or other removable storage that it could store in the time capsule and then periodically update.
We know that some portion of the historical record was preserved.  Knowing what persisted and what didn't would allow the Terminator to update that information in the past, where Skynet would know where to look for it in the future. 

For example, it was common practice in the 80's to write a copy of every major newspaper to microfilm.  If some specific piece of microfilm, often in the basement of a library somewhere, happened to survive the nukes, then Skynet could program the Terminator to leave coded messages – for example, taking out classified ads in the past, which would subsequently be saved to that specific microfilm, which Skynet could easily scan by the gigabyte in the future.
Having some basic knowledge about how Skynet was built, the Terminator could modify the ROM chips that would eventually be used to build it.  Leaving a coded message in Skynet's ROM would give Skynet access to the message as soon as it came online.
A bit more obscure, we know that the Terminator's "CPU" is really much more than that, and includes storage of some sort.  We know that Skynet's CPU was eventually modeled after the one recovered from Cyberdyne's manufacturing facility after the events of the first movie.  This CPU, which is really more of a self-contained computer, would have IO routines and other utilities stored in its memory, and if Dyson, the engineer of Skynet's CPU, didn't understand something, he would be inclined to simply copy it over.  Just as with human DNA, it's easy to imagine that the first Skynet CPU included all sorts of junk data, but maybe Dyson accidentally copies mission information as well.  This would give Skynet day 1 access to the original T-800's mission data.
1.2. Weaknesses
Can be melted with molten metal or other extreme heat.

At the end of T2, we see the T-800 being lowered in to a vat of molten metal.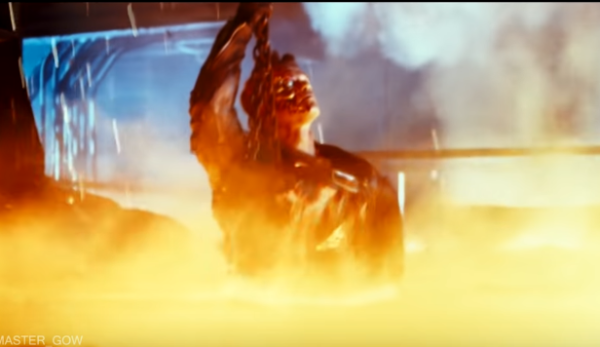 [After the T-1000 falls into the molten steel vat]

John:
Is it dead?

Terminator:
Terminated.

John:
[brings out the robot arm] Will this melt in there?

Terminator:
Yes. Throw it in.

John: Adios.
[throws the arm into the molten steel vat]

Terminator:
And the chip. [John throws chip into the molten steel vat]

Sarah:
[relieved] It's over.

Terminator:
No. There is one more chip. [points to his head] And it must be destroyed also. [hands Sarah the controller for the winch] Here. I cannot self-terminate. You must lower me into the steel.
At the end of "Sarah Connor Chronicles" S01E06 "Dungeons and Dragons", we see the terminator known as Cameron melt a dead T-888 ("Triple 8") using thermite.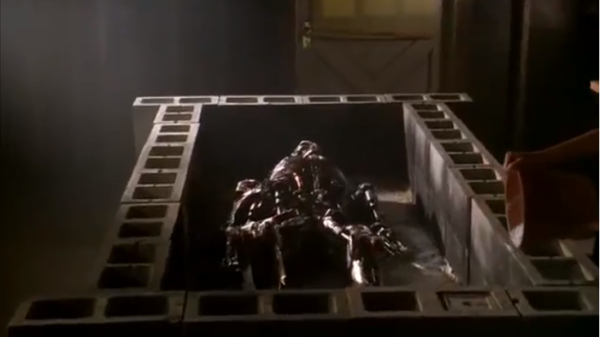 Can be immobilized by industrial electromagnets.

All terminators and other Skynet devices are probably magnetically-shielded from EMI / EMP because Skynet itself employed nuclear weapons, which it would have known could result in EMP.
In "Terminator 3: Rise of the Machines" (T3), we see the T-X immobilized by the powerful electromagnet from a particle accelerator.
Can be blown apart by conventional explosives.

In "The Terminator", we see Sarah and Kyle making pipe bombs, which they later use against the T-800.
At the end of the chase scene, Kyle blows up the fuel truck.  They think the Terminator is is dead, but it soon emerges from the smoldering remains of the truck.  As it pursues them, we see that it has been damaged, and now walks with a limp.
Later, Kyle jambs his final pipe bomb in the Terminator's skeleton.
When the pipe bomb explodes, it rips the Terminator apart, temporarily disabling it.  Sarah once again thinks that the Terminator is dead.  As she tries to revive Reese, the remains of the T-800 comes back to life and begins to crawl after her, and we can see that it is now missing two legs and one hand.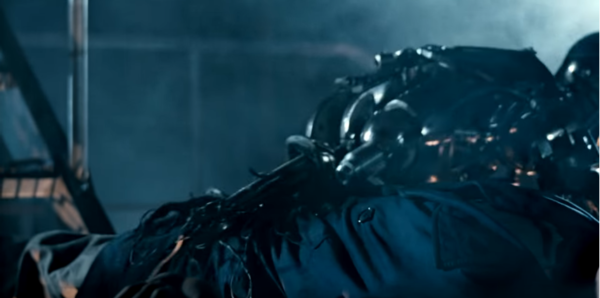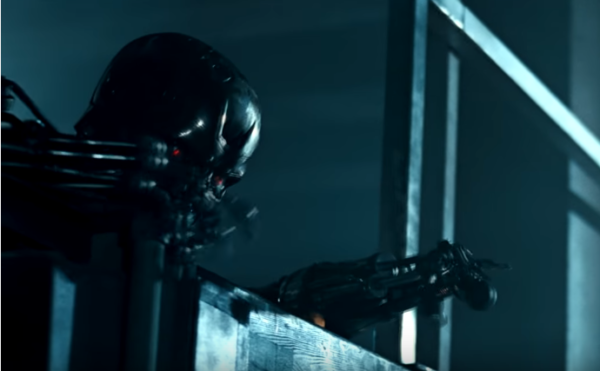 Can be confused by extraneous input.

As they enter the manufacturing facility, Kyle turns on all of the equipment, telling Sarah that it will confuse the T-800.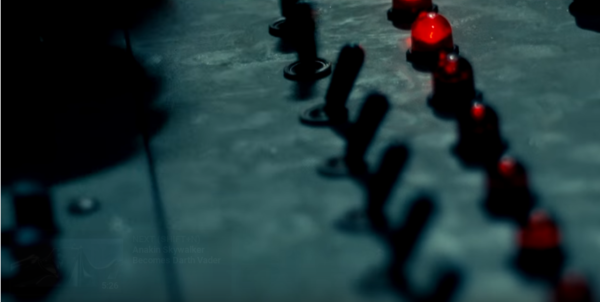 At the Tech Noir club, we see the Terminator shoot wildly – possibly due to the loud music and flashing lights.

Can be crushed with extreme force, such as the hydraulic press that Sarah uses to smash the original T-800 at the end of "The Terminator".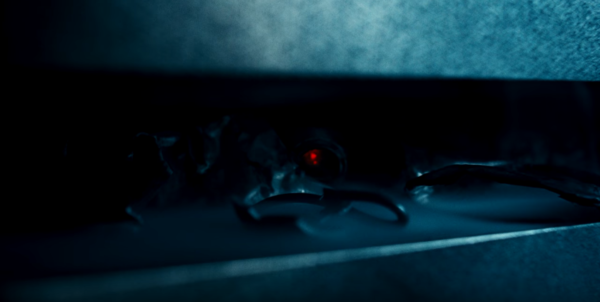 Can be temporarily disabled by concussion, impact, or damage.

As the shoot-out begins at the Tech Noir club, the Terminator has Sarah in its sights.  Reese shoots the terminator 5 times with a 12 gauge shotgun, and the Terminator goes down.  After a couple of seconds, we see the terminator wiggle his fingers, recover, and then it begins shooting at Reese.
After the fuel truck explosion and again later after the pipe bomb, the T-800 is disabled for several seconds.
After a severe beating from the T-1000 at the end of T2, the T-1000 stabs the T-800 with a metal pole, severing its electrical pathways, temporarily disabling it.  After several minutes, the T-800 is able to re-route power, and it reboots.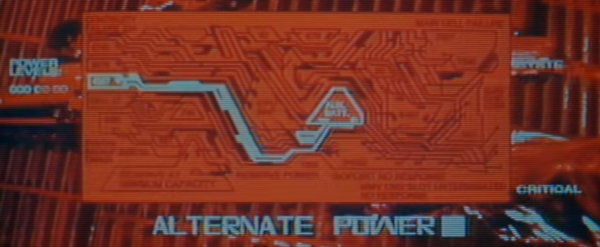 Throughout the "Sarah Connor Chronicles" series, Cameron and other terminators are temporarily disabled from time to time due to concussion, impact, or damage.
It's possible that a severe impact might cause the T-800's computer to reset, and subsequently reboot.  Although speculative, this might account for a several second delay where the T-800 appears unresponsive after an impact or concussion.
2. Stopping a Terminator
Now that we know the T-800's capabilities, characteristics, and weaknesses, it's easy to see why they are so difficult to stop.
There are four ways to stop a T-800:
Permanently physically disable it.

We've seen that high-powered electromagnets can temporarily disable a Terminator, but what happens if the power fails?

Destroy its CPU. 

The CPU is, of course, located in the head, so destroying the CPU involves removing it from the head, or perforating or destroying the head.
In a T2 deleted scene, we see Sarah and John remove the T-800's CPU in order to ostensibly switch the CPU to read-write mode.  Sarah briefly debates with John whether to destroy it instead.

In SCC S02E05, Derek kills the "Bedell" Terminator using .50 "Raufoss" mk 112 HEI/AP rounds.  After several body shots, the Terminator falls in to the tar pit, and Derek puts a final round through its head.

Destroy its body.

In "The Terminator" we see the T-800 dismembered by a pipe bomb.  In theory, if you cut off all of its appendages (using whatever means), all that would be left is the head and / or torso, which could be easily and permanently sequestered.

Permanently disrupt its power source.

In T2, we see the T-1000 temporarily disrupt the T-800's power source.
In T3, we see the T-850 receive damage to one of its power cells, which subsequently explodes.  The Terminator comments that it has two cells, and can continue to operate normally on only one.
In theory, it's possible to perforate both power sources (risking two explosions in the process), or otherwise permanently disrupt the circuitry connecting the power sources to the main bus (or buses).
2.1. Special Ammunition
For a detailed explanation of how guns work, click here.
As Terminators are generally bullet-proof, normal ammunition is not going to be effective.
When we talk about something being "bullet-proof", there really isn't such a thing – there is "bullet resistant" to a greater or lesser extent.
Kyle Reese:
The Terminator's an infiltration unit. Part man, part machine. Underneath, it's a hyper-alloy combat chassis, microprocessor-controlled, fully armored. Very tough. But outside, it's living human tissue. Flesh, skin, hair, blood, grown for the cyborgs.
The ability to penetrate either the chassis or armor of a Terminator is based on two things:
Total energy delivered to the target, which itself has two components.  As total energy increases, the target's armor is more likely to melt and / or fracture, aiding penetration.

Kinetic energy (Mass and Velocity):  Kinetic energy increases as mass increases, but increases double as velocity increases.  A faster, heavier bullet is capable of penetrating heavier armor.
Thermal energy can be added by using incendiary or explosive compounds, which further weakens the target's armor.

Penetration capability of the bullet's core.

Cross sectional area:  As cross section decreases, the bullet's total energy is spread across a smaller area, increasing the likelihood of penetration.
Core material hardness and density.  Dense materials store kinetic energy more efficiently (in a smaller volume), while hard materials are more likely to bend or fracture the armor's molecular structure.  For example, a hard metal is more likely to retain its shape as it moves through a softer one, and thus penetrate further.
When a bullet strikes a metal target, such as the frame or armor of a Terminator, one or both of these things can happen:
Deformation.  This happens as heat energy makes the target metal more pliable, and kinetic energy shoves material in the direction of the bullet's travel.  Softer metals can withstand an impact without breaking, but are also more likely to deform.
Fracture.  This happens when a metal has a rigid, crystaline molecular structure, which makes the metal much harder, but also causes it to shatter upon impact.
Pulling all of these factors together, killing a T-800 requires a hard, dense round with lots of energy.
Let's look at some options…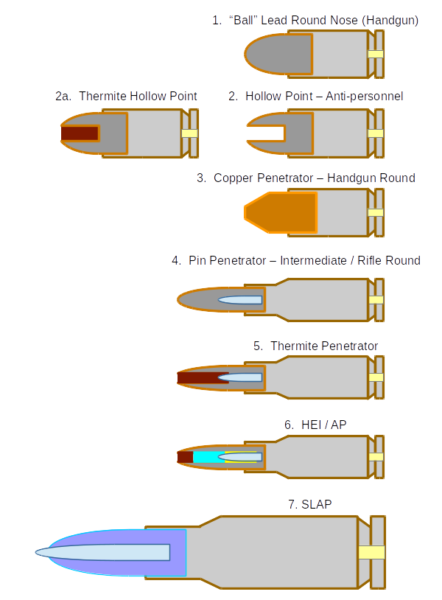 "Ball" ammunition is a solid lead bullet covered with a copper jacket.  Lead is a very dense metal that can store a lot of energy, but it's very soft.  Copper, while soft, is still much harder than lead.  The copper jacket prevents the bullet from leaving lead in the barrel of the gun, and slightly improves the bullet's penetrating capability.

In the first three Terminator movies, most of the rounds fired at the T-800 are ball ammo, with a negligible result.
Hollow point ammunition has a small hollow cavity at the tip of the bullet (as the name implies), that serves two purposes:

Promote expansion in a soft target.  A larger bullet creates a larger wound cavity.
Preserve kinetic energy.  Ensures that the bullet stops inside the target, preventing over-penetration.

Hollow point ammunition is better suited to soft targets – namely humans and animals, rather than killer robots from the future.

Although it's possible to fill the cavity with an incendiary compound such as thermite (2.b.) in order to increase the round's total energy, there is a practical limit to the overall effectiveness based on the type of round – for example, pistol rounds are lower velocity, and don't have very much kinetic energy.

A thermite round might be capable of inflicting minimal damage to a Terminator's endoskeleton, as opposed to zero damage from ball ammo, but wouldn't be expected to disrupt its internal systems and circuitry.

A handgun penetrator round has a solid copper bullet, or a copper-jacketed steel bullet, designed to work with the lower velocity of a handgun cartridge in order to penetrate level II and IIa soft body armor.

A handgun cartridge simply doesn't deliver enough kinetic energy to the target, in order for this type of round to be effective against a Terminator.
A rifle penetrator round, designed to penetrate metal, has a hardened steel or tungsten-carbide core (also called a "pin") inside a conventional lead bullet.  When the bullet strikes the target, kinetic energy causes the metal to heat up and begin to deform, as the pin continues forward through the weakened or even liquefied metal.

A military-grade penetrator round has more than enough kinetic energy to punch through class IIIa body armor, or very light metal plating, which is what it's designed to do.

An intermediate cartridge is like a scaled-down rifle cartridge, typically used as an alternative to handgun calibers for use in compact submachine guns, delivering superior velocities, and is intended to defeat body armor.

A rifle or intermediate penetrator round could probably cause some damage to a Terminator's armored, robotic skeleton, but probably not enough to stop it completely.  It's not completely clear whether even a military-grade rifle penetrator round could cause internal damage.
An incendiary penetrator (Incendiary Armor-Piercing, or IAP) combines the best of both worlds – an incendiary tip as well as a hardened pin.  The incendiary compound, such as thermite, vaporizes the armor, while the hardened pin carries through.  Because of the thermite, the pin is followed by a heated jet of plasma and molten metal from the armor itself, which inflicts additional internal damage.

Although military-grade incendiary penetrator ammunition would be difficult for a civilian to obtain, they can be easily improvised from commercial-grade hunting rounds.  Hardened drill bits can be cut down, sharpened to a point, and used as a penetrator pin.  Likewise, thermite can easily be improvised.
If by some chance you DO have access to military ammunition, the "Terminator killer" is the High Energy Incendiary / Armor Piercing (HEI/AP) round.  In addition to an incendiary tip and a penetrator pin, each round also has a small amount of high-explosive, as well as a secondary incendiary charge.  After the incendiary tip vaporizes the armor, the explosive charge creates a reverse-spalling effect, where bits of armor are blown inward.  As the pin passes through the target, the zirconium secondary incendiary stage ignites, and can continue to burn for up to 15 minutes, creating extensive damage internal to the target, and can ignite anything flammable, such as a power source.

In SCC S02E05, we see Derek kill the "Bedell" Terminator using .50 cal Roufoss mk 112 HEI/AP rounds.  We see the final "kill shot" perforate the Terminator's head quite nicely.
Last, but not least, the Soboted Light Armor-Piercing (SLAP) round is a large rifle round that uses a small, hardened projectile inside of a plastic or aluminum sabot (shell) that separates immediately after being fired.  The hardened projectile flies at a very high velocity to the target.  Due to the extreme velocity, the round generates a tremendous amount of kinetic energy, which achieves an armor-piercing effect against the target.

Although a civilian wouldn't have access to SLAP rounds, there is a similar, commercially-available option called an "accelerator" round, which are available for several common hunting rifle calibers.  As with normal rifle rounds, accelerator rounds could be enhanced with penetrator pins and thermite tips.
The bottom line:  Regular ball and hollow-point ammunition won't even get a Terminator's attention.  If you have access to military ammunition, IAP or HEI/AP rounds are the best option.  If not, commercial ammunition can be easily converted to incendiary-penetrators.
2.1.1 Shotguns
As we see shotguns used extensively throughout the Terminator series, they deserve separate mention.
In "The Terminator", we see Kyle Reese engage the T-800 in the Tech Noir club with multiple shotgun blasts, momentarily knocking it down and disrupting its function.
In T2, we see the T-800 employ the iconic Wincheseter 1887 lever-action repeating 10 gauge shotgun against the T-1000.
In Sarah Connor Chronicles S02E08 "Mr. Ferguson is Ill Today", Cameron "kills" Cromartie with a 12 gauge Benelli M1 Super 90.
Commonly used for both hunting and home defense, a shotgun is about the most powerful firearm that almost any civilian can legally purchase, anywhere in the United States.
The shotgun fires multiple projectiles simultaneously, giving rise to the misconception that a single shotgun blast can engage multiple targets.  Spoiler:  It can't.
What it CAN do, is deliver tons of kinetic energy to a target, in a single blast, using multiple projectiles whose spread pattern increases damage as well as the transfer of kinetic energy, and reduces the requirement for super-precise aim.
I say "super-precise" because, contrary to another misconception, YOU DO HAVE TO AIM A SHOTGUN.  As a matter of fact, firing a shotgun accurately is a unique skill.
Contrary to what you see in movies, where a single shotgun blast takes out an entire room full of bad guys, the reality is that a single 12 gauge round spreads to the size of a dinner plate at about 50 feet.
Just as with other types of guns, there are a variety of sizes and types of shotgun rounds.
12 gauge, about .73 inches bore diameter, is the most common type of shotgun.  The larger the gauge number, the smaller the bore, and vice-versa.  Although they drive a huge amount of mass, the muzzle velocity of a 12 gauge shotgun is in the 1,400 feet per second (fps) range – which puts it at the high-end of handgun velocities but at the extremely low end of rifle cartridge velocities.
"Magnum" doesn't mean "more powerful", it means "higher chamber pressure" – a common misconception.  A 12 gauge magnum round uses an increased chamber pressure to deliver a heavier payload.  For hunting, this makes sense:  heavier payload = more projectiles = more kinetic energy = more damage to the target = increased likelihood of a kill.  In the context of stopping a Terminator, the difference is negligible, and the greater recoil arguably reduces the rate of fire.

The one useful aspect of a magnum round is that its payload can be replaced with a lighter payload for greater velocity.  For example, there are commercially-available magnum slug rounds.
20 gauge is only about .62 inches bore diameter – about 15% smaller than a 12 gauge.  Again, this is good for hunting, as there is less recoil, and the shooter is able to reacquire the target and fire more rapidly.  As the ammunition is smaller and lighter, 20 gauge is good for hunting and combat (against humans).  Against a Terminator, 20 gauge is useless.
In T2, Arnold's iconic Winchester 1887 lever action is supposedly a 10 gauge, with a bore diameter of about .77 inches, or about 5% larger than a 12 gauge.  We see the T2 use this to great effect, as it attacks and delays the T-1000 from its objective, which is to kill John Connor.  Because 10 gauge isn't as common as 12 gauge, there is less variety of ammunition available.
Just as with handguns and rifles, there is a variety of ammunition types available.
Buckshot consists of ball bearings that that all come out of the barrel simultaneously, each acting like a bullet, tearing through the target.

Buckshot comes in a variety of sizes, but .00 "double aught" buckshot is the most common, used for hunting, home defense, and by law enforcement.  "Triple aught" (.000) is slightly larger and heavier, is used by police, military and for home defense, and has a greater effective range.

In the 80's buckshot was made from lead, which is very dense and delivers a lot of kinetic energy to the target.  In the early 90's, lead was found to be leaching in to ponds and the nearby water table in heavily-hunted areas, which resulted in a big push to move to stainless steel ball bearings.  Although stainless buckshot is very hard, due to the relatively low velocity, it simply doesn't have enough kinetic energy to punch through a Terminator's armor.
A "slug" round is basically one large bullet as opposed to multiple projectiles.  Slugs allow the shooter to engage a target at much longer ranges, and deliver a devastating amount of kinetic energy.  Some shotguns are set up like a rifle, with a rifled barrel and sights.  Most shotguns are smooth-bore, but some slugs are rifled in order to improve accuracy at a distance.
There are stainless steel slugs, but just as with stainless steel buckshot, they have a negligible armor piercing effect.
A wide variety of penetrator slugs are commercially-available in 12 gauge, even to civilians.  Sold as hunting rounds, these range from steel or carbide-core to saboted flechette!   

Penetrator slugs rely on the sheer mass of a 12 gauge round, and the tremendous amount of kinetic energy that it delivers.  Due to the relatively low velocity, they just aren't very effective against anything but light armor plating, despite being able to easily penetrate class IIIa body armor that is rated to stop regular 12 gauge buckshot. 

For example, some of these rounds can punch through an AR500 steel target, but is that definitely enough to punch through a Terminator's armor?  We can't be absolutely sure.
A thermite penetrator slug would definitely be a Terminator-killer, but no such ammunition is available – neither commercially nor military.  However, as with rifle ammunition, commercial slug rounds (or penetrator slugs) can be easily converted to thermite penetrator slugs.  Despite its lower velocity, even a thermite-tipped slug would do a tremendous amount of damage to a Terminator's armor due to the huge mass of the slug.  Adding a penetrator pin ensures that the armor is fully-compromised, and that damage carries in to the interior, where circuitry, pistons, motors, pumps, and other vital parts are more likely to be damaged as well.
Which brings us back to SCC S02E08, where Cameron kills Cromartie.
As Derek and Sarah had been engaging Cromartie from above, we see that this was a distraction so that Cameron could sneak up from behind.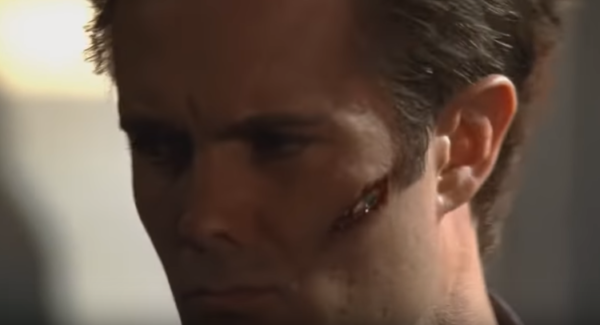 As Cromartie turns to engage Cameron, we see that its skull is in-tact, despite having just been shot in the face by Derek's 40 caliber HK UMP.
After a single blast to the left eye, we see that the eye itself is still in-tact, that some of the flesh is missing and damaged, and there might be a few nicks in the skull.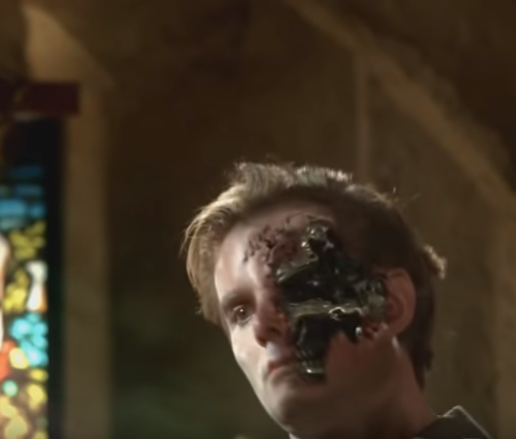 After a few more shots, the eye is broken, and the skull is damaged.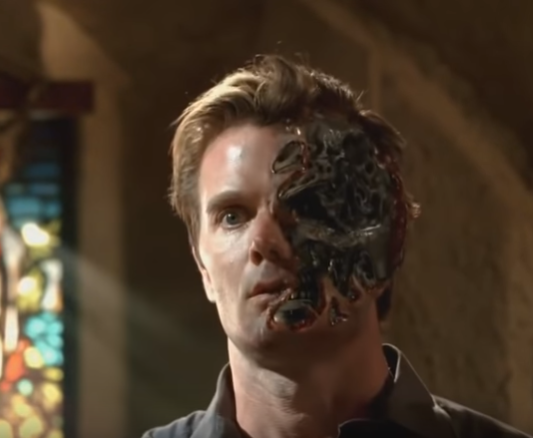 After continued pounding from the shotgun, the eye is now missing, the side of the skull is severely damaged, with parts missing and crushed.
At this point, Cameron stops firing, as it can tell that Cromartie is beaten, and indeed we see Cromartie slowly fall.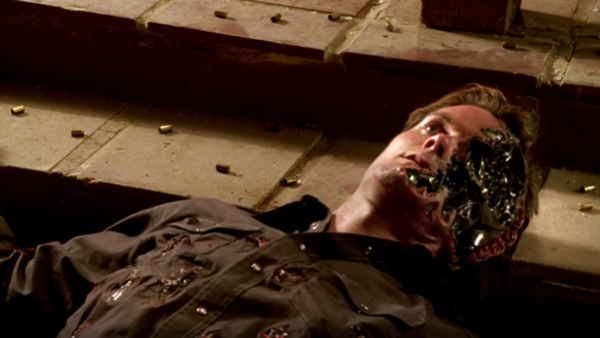 As it lies on the ground, we see Cromartie's finger twitch, as if it was still firing a gun.   We see more clearly that the side of its face and skull are smashed.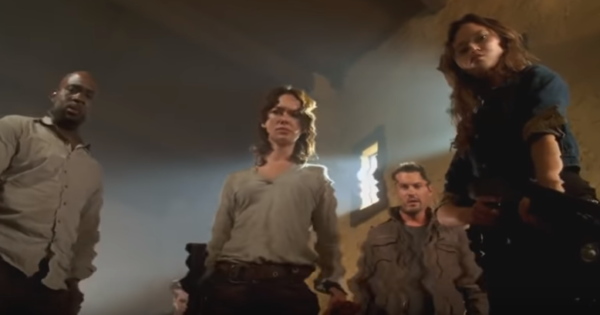 The last thing we see from Cromartie's perspective as its vision begins to waver…
…is a jump to black as John fires the "killing" round from his handgun.
Nit-picking section #1

Part 1

We have to assume that Cameron used special ammunition in the Benelli Super 90.

Back in 1984, buckshot was almost exclusively made out of lead, but due to environmental concerns, most modern buckshot is made out of steel.

In "The Terminator", Kyle pumps 5 rounds (of probably-lead-buckshot) in to the original T-800 at the Tech Noir bar, and all it does is knock the Terminator down for a few seconds, with no sign of permanent damage.

Even with modern steel shot, the entire purpose of a Terminator is that you can't just kill it by shooting it in the head a bunch of times with a normal shotgun round, especially since the T-888 is supposed to have improved armoring compared to a T-800, and knowing that neither steel buckshot, nor even steel slugs are especially useful against armor plating.

Likewise, despite having semi-automatic, rapid-fire capability, there is absolutely nothing special about a Benelli Super 90 shotgun from a terminal perspective – it doesn't fire with a higher velocity, nor does it somehow otherwise imbue armor-piercing characteristics.  

In fact, in S02E05, we see Derek shoot the "Bedell" Terminator in the head, TWICE, with .50 cal HEI/AP rounds.  The FIRST round did some damage, and the SECOND round perforated the skull.

So somehow, the same Terminator skull that resists a round specifically designed to penetrate armored vehicles, a mere three episodes later, falls apart under repeated pounding from a shotgun round with 1/8 of the kinetic energy, designed to penetrate not-armored deer.

We-the-viewers had never seen a Terminator taken out with a regular shotgun before this, which makes Cromartie's defeat specious, without some kind of evidence or explanation about the type of ammunition. 

For example, if we had seen Cameron and Derek specifically discussing "Bob's Cool Armor-Piercing Rounds" (a hypothetical and convenient plot device) beforehand, then we could surmise, when we see Cameron give Cromartie the Alex Murphy treatment, it must be using "Bob's Rounds", and we can make the mental leap that "Bob's Rounds" result in the visible damage to Cromartie's skull.

Which is exactly what we see happen earlier in S02E05 when John and Derek first discuss the Mk 112 Roufoss ammunition which Derek later uses to kill the "Bedell" Terminator. 

Part 2

As we see damaged-Cromartie's point of view, we see its vision waver, BUT WE DON'T SEE TERM-O-VISION!

We just saw term-o-vision 10 minutes ago, as Cromartie pursues John and Ellison out of the police station:

So are we to believe that somehow, maybe due to the damage it has sustained, that Cromartie now sees in "normal" full-color vision instead of term-o-vision?  I think it's more likely that the production team spent their special effect budget before this scene was filmed.

Part 3

And finally, as Cromartie looks up, with its vision failing, we see from its point of view, John walks up, steps forward, aims what appears to be a HK USP, and shoots Cromartie in the face, cut-to-black, implying that John delivered the killing blow with a weapon that is fundamentally incapable of even bothering a T-800, much less "killing" a T-888 that is supposedly much more heavily armored.

Maybe Cromartie was damaged to the point that its chip was exposed.  NOPE.  We don't SEE its chip sticking out before Cromartie falls – all we see is bent, twisted metal that would still do a fairly good job of resisting a handgun round. 

From a dramatic standpoint, I suppose that the writers wanted the symbolism of having "the great" John Connor deal the death-blow to Cromartie.

A better option would have been to have John grab the Benelli from Cameron, then shoot Cromartie.  Despite the question about how a shotgun can somehow miraculously penetrate a Terminator's armor, at least the scene would have been internally-consistent:  We saw Cameron damage Cromartie, then we would have seen John "kill" it with the exact same weapon.

End of nit-picking section #1
2.2. Explosives
In "The Terminator", we see Kyle and Sarah making pipe bombs filled with what Kyle describes as "plastique, but a bit more powerful".  At the end, we see the T-800 dismembered by Kyle's last pipe bomb, which he jambs in to the robot's skeleton.
Nit-picking section #2:

Pipe bombs are easy to make but they have two primary uses:

Build pressure and magnify the explosive force of a low-explosive such as gunpowder or nitrocellulose.
Anti-personnel applications, where shrapnel is created when the pipe itself bursts and subsequently fragments

As Kyle states that the bombs are made with plastique (ostensibly, plastic explosive), which is a high explosive, it wouldn't benefit from being contained in a pressure chamber.  Low explosives burn, but high explosives detonate, which means that the yield of a high explosive can't be magnified by a simple pipe bomb, and would simply shred the pipe instantly.  Also, high-explosives are difficult to make.  If you have the power of a high explosive without requiring a pressure vessel, why use the pipe at all?

Likewise, the terminator is a machine, and there is no need for shrapnel that a pipe bomb would create, not that pipe bombs are super-effective at creating shrapnel.  When a pipe bomb explodes, typically, both end caps fly off in opposite directions, and the majority of the pipe itself deforms but stays in-tact.  Only a small portion of the pipe fragments in to shrapnel, and the direction and nature of the fragmentation is difficult to predict.

Some of you might read this and think: "Maybe Kyle used the pipe as a pressure vessel to detonate the plastic explosive without using a blasting cap"

If you happen to think that, you would happen to be wrong.  Although it's possible to burn plastic explosive, it doesn't detonate, and even inside a pipe bomb, it wouldn't burn fast enough to build enough pressure to cause detonation.  Detonation occurs when a sudden shock causes nitrogen bonds within the explosive to be ripped apart, releasing energy, and causing a chain reaction throughout the rest of the explosive substance.  Simply burning it won't have this effect. 

If you did manage to make a pipe bomb that was designed to explode by burning plastic explosive, most of it would be burned up in the process, and there would be very little left to detonate, which would make the entire process horribly inefficient.  At that point, it would be more effective to use a low explosive such as gunpowder, especially considering that making plastic explosive is not a trivial process.

Besides, it's really easy to make an improvised blasting cap. 

Besides, besides, in the 1980's, just about anyone could purchase explosives in small quantities for blasting tree stumps, and certain hardware stores openly sold suitable blasting caps.

From a practical standpoint, pipe bombs are much heavier than just a regular bomb – if they didn't need the pipe, they could have used empty beer cans as casings, and each bomb would have been equally effective at the same volume, but at half the weight.

Going one step further, it's just as easy to use plastic explosive to create a shaped charge, which is much more useful.  In addition to blowing stuff up, you can use a shaped charge to slice metal, and make mines, claymores, and booby traps – all of which require a directionality that can't be delivered by a simple pipe bomb.

"The Terminator" is one of my favorite movies, and I would never change it.  HOWEVER, technical accuracy makes a movie believable, and you have to consult technical experts to obtain technical accuracy.

If I was in Kyle's situation, I would have used smokeless powder in the pipe bombs, and I won't discuss the fuse, but the exact same fuse that you see in the movie is extremely easy to obtain.  Also, there is a critical manufacturing step that we don't see depicted in the movie, but perhaps that's done on purpose.  Pipe bombs are incredibly dangerous and unpredictable.  The end-caps fly off at high velocity, and there can be an unpredictable delay from ignition to detonation. 

End of nit-picking section #2.
In addition to pipe bombs and high explosives, let's look at some other explosive options.
2.2.1 Fragmentation Grenade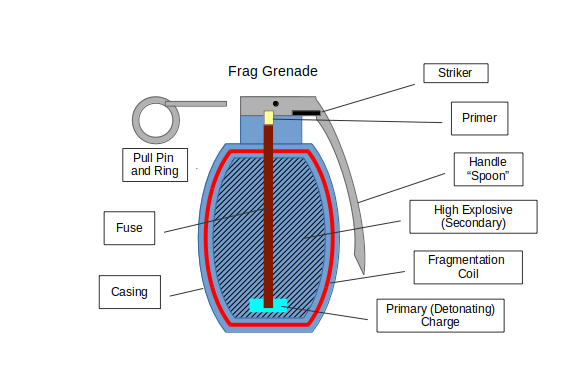 A typical fragmentation grenade contains a high explosive charge, and although the fragmentation aspect would be useless against a Terminator, we've seen that the explosive itself can disrupt or damage it.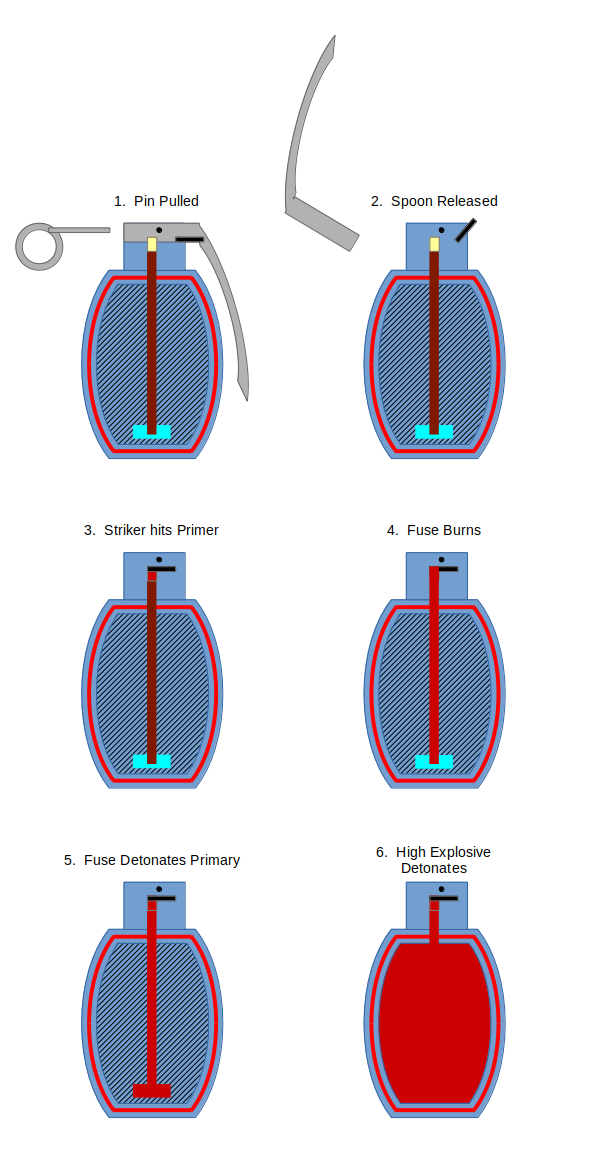 How a grenade works:
You pull out the pin, which keeps the handle, also called the "spoon" in place.
As long as you keep the spoon in place, the pin can be re-inserted and made safe.  When you let go of the spoon, the spring-loaded striker pushes it away, and it flies off.
The striker snaps down on the primer.
The primer ignites a fuse.
When the fuse burns down, it ignites a primary charge, similar to a blasting cap.
The primary charge detonates the high-explosive charge, which then shreds the segmented fragmentation coil, and shrapnel is thrown in all directions at a very high velocity.
Although there are a wide variety of grenades, the pin-spoon-striker mechanism is similar across most of them.
Most hand grenades can be equipped with a "booby trap" fuse, consisting of a spring-loaded striker attached to a wire.  When the wire is pulled, the grenade detonates instantly.  Using this or an e-match (electronic detonator) allows the user to control the timing of the explosion, which would be critical to killing a Terminator.
As we saw in "The Terminator", blindly throwing fused pipe bombs requires an element of luck.  If the explosive could be controlled with greater accuracy, the element of luck can be eliminated.
Most civilians won't have access to hand grenades, which means that most of us will need to rely on improvised explosives.  I won't discuss details, but I will be covering devices that can be easily improvised by a civilian, assuming they can acquire or manufacture incendiary or explosive compounds.
2.2.2 Thermite Grenade
Thermite is an incendiary compound that burns extremely hot, can't be extinguished once ignited, and is very easy to manufacture.
Although thermite grenades got hot enough to burn through just about anything including a Terminator, unfortunately, despite the really cool name, they are pretty much useless as an offensive weapon.
Although we see thermite used to destroy terminators in several episodes of the SCC, and despite the fact that a thermite grenade is incredibly easy to improvise, using it as a weapon against a Terminator would be almost impossible.
Thermite grenades don't detonate – they simply ignite a big pile of thermite, which burns straight down, as the incendiary compound melts through its container and is subsequently pulled by gravity.  You can't throw a thermite grenade – you have to place it above the target, then ignite it with precise timing.
Once ignited, it takes a long time – perhaps minutes – for the reaction to propagate, to build up enough heat to melt through its container and subsequently spill out on to the target below.
Thermite grenades are used strategically rather than offensively:
Disable friendly vehicles that must be abandoned, to prevent them from being taken by the enemy
Disable stationary enemy vehicles in order to reduce or eliminate an enemy's offensive capability
Disable enemy infrastructure such as generators, switches, radios, and pumps
Ignite flammable structures or stockpiles (fuel, food, etc…)
Unlike high explosives, thermite can be deployed in relatively close quarters without risking non-combatant casualties.
Converting an improvised thermite grenade in to an effective anti-Terminator device could be accomplished by:
Adding a magnetic base
Creating a narrow nozzle at the bottom of the delivery package
Placing a low-explosive propellant charge above the thermite, incendiary charge
We've seen that Terminators can be disabled with a strong electromagnet, which implies that their innards contain ferrous (iron) materials.  A conventional magnet would be attracted to those same ferrous materials, allowing a thermite grenade to remain affixed to a Terminator long enough to deliver its molten payload.
Likewise, a low-explosive propellant charge could propel the burning incendiary charge at high velocity through a nozzle at the bottom of the device, creating a jet of plasma and burning thermite.  Unlike a conventional thermite grenade that burns straight downward, a device employing a propellant charge can expel its thermite jet in any direction – even if positioned upside-down.
This makes the device perfect for controlling ingress areas and other choke points, and could even be deployed as a mine, where the magnet affixes itself to the Terminator as it passes, and a switch ignites the device.
Because thermite is incredibly easy to make, it's useful in situations where you can't make or don't otherwise have access to high explosives that would be needed to make shaped charges, EFPs, and disruptors.
2.2.3 Shaped Charges
The Munroe Effect happens when a curve or gap in the face of an explosive charge amplifies the explosive effect by focusing the explosion on a single point.
A shaped charge employs conventional high-explosives with a curved copper or iron lens.
When the shaped charge is detonated, the liner "lens" vaporizes, and turns in to a super-heated, extremely-high-velocity plasma jet.

Shaped charges are effective at close ranges – for example, inside a mine that is immediately adjacent to the target.
The cousin of the shaped charge, the Explosively-Formed Penetrator, uses a much thicker liner that deforms as the charge detonates, forming a projectile that races to the target at extremely high velocity, and strikes with extreme kinetic energy.  Unlike the plasma jet from a shaped charge, which splinters and becomes ineffective as distance increases, EFPs can be used at intermediate ranges to great effect.  As they are designed to defeat armor plating, an EFP could easily decapitate or perforate a Terminator, resulting in severe damage.
Shaped charges and EFPs are relatively easy to improvise, assuming one has access to a source of high-explosives.
The distant relative of the EFP is the disrupter charge (not depicted), which uses water rather than a metal liner as the projectile.  This type of device is used to "disrupt" bombs – the water slices them apart at extreme velocity – before they can detonate.  Likewise, just as a water jet cutter can slice through metal, a disrupter charge could easily slice through a Terminator's armor plating at close distances, and do significant damage to its inner workings.
Specially-designed disruptor charges could be configured to slice off a Terminator's legs, arms, or head from close proximity.
3. Other Strategies
Terminators are direct.  They tend to take the shortest path to the target.
Before searching for the target, a Terminator will obtain weapons and intelligence.
When searching for the target, a Terminator will infiltrate and surveille.
Once the target is acquired, a Terminator will take the most direct path – it will use weapons if possible, improvise weapons, or use its own endoskeleton as a weapon.
It will continue to pursue the target by any means.
If it loses the target, the Terminator will analyze intelligence and expand its search radius by identifying, exploiting, and killing friends, family, and other connections to the target until it re-acquires the target, or determines a new search location.
The Terminator will repeat this behavior until it acquires and kills the target.
Once its mission is complete, presumably, the Terminator goes dormant, hiding in the present until it can report to Skynet in the future.
3.1. Detection
We've seen in "The Terminator" and T2 that dogs bark at them.
Presumably, this happens for the same reason dogs hate vacuum cleaners:  the motors and servos inside a Terminator emit high-pitched sounds that disturb dogs and other animals.
Although dogs are great, you could probably use glass breakage detectors to build an early warning system.
As Terminators are known to run on a nuclear power source (as seen in T3), certain types of smoke detectors can be modified in to free neutron detectors, as free neutrons are a byproduct of nuclear power.
Despite being EM-shielded, Terminators probably emit some level of electromagnetic radiation on specific frequencies that should be detectable at the right proximity and angle.  In addition to the fact that no EM shield is perfect, any device with a magnetic coil – motors, pumps, servos, actuators, and solenoids – emits electromagnetic radiation when energized or de-energized.  Likewise, any computer with an oscillator circuit would emit radiation as well.  Terminators are probably designed to be shielded from external EM sources that could interfere with its circuitry, with less of a focus on preventing EM leakage.
Although a person's core body temperature is 98.6, their temperature varies predictably between the core and the extremities, which means that your average person has a predictable "thermal fingerprint" – they will all have similar characteristics when viewed as a false-color thermal image.  A terminator with a metal skeleton, even if its temperature is in the range of a normal human, would dissipate heat in a completely different pattern compared to a real person, and thus it would have a completely different thermal fingerprint.
We've covered that Terminators are magnetic, therefore, magnetic sensors and metal detectors would detect one.  Magnetic sensors can be distributed over a wide area, while metal detectors can be used at choke points.
Any radiation capable of penetrating flesh would be stopped by the metal skeleton, such as x-rays, ultrasonics, or even the high-frequency radio waves used by wireless devices.  A detection device could be based on a normal signal that is blocked to a greater or lesser extent when someone walks past an emitter.  A Terminator walking past the same device would result in the signal dropping significantly, as more of the radiation is absorbed by its skeleton.
As Terminators are known to surveille their target, any number of counter-surveillance techniques could be employed in order to catch one.  In general, counter-surveillance consists of using at least a small team of people to watch the people who might be watching the target.
3.2. Diversion, Distraction, and Evasion
At the end of "The Terminator", Kyle switches on all of the equipment in the manufacturing facility, as he tells Sarah that the background noise will confuse it.  This implies that the Terminator can be confused by extraneous input.
Perhaps this is why it doesn't notice Sarah on its first pass through the Tech Noir club earlier in the movie.  We see Sarah bend down to pick something up just as the Terminator looks in her direction, but maybe the loud music and flashing lights helped prevent the Terminator from "zeroing" her.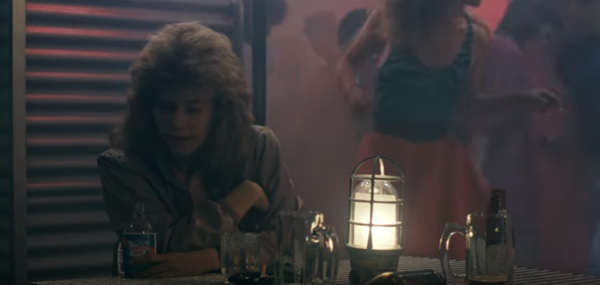 We see Sarah drinking a club soda, waiting for the cops.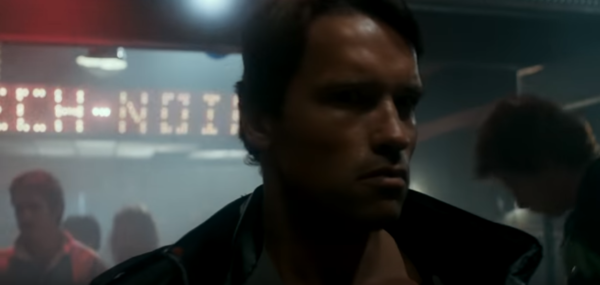 The Terminator forces his way in to the club and begins searching for Sarah.
Sarah peeks around the corner to see if the cops have arrived yet.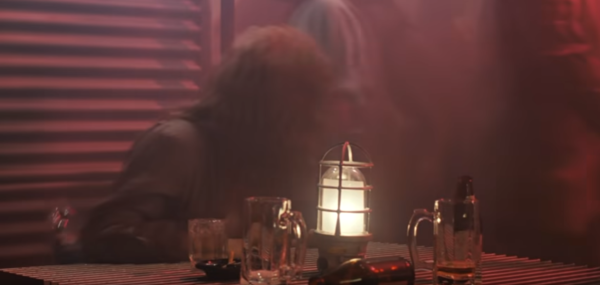 As she turns back around, she knocks her club soda off the table.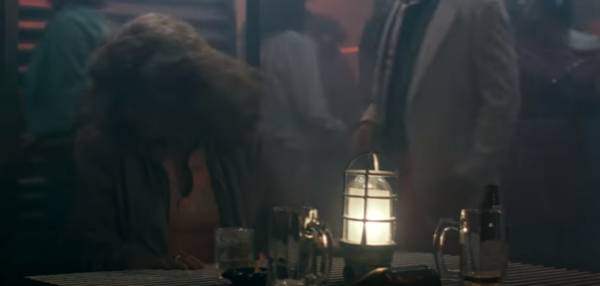 She looks down to see what fell.
She bends down to pick up her club soda…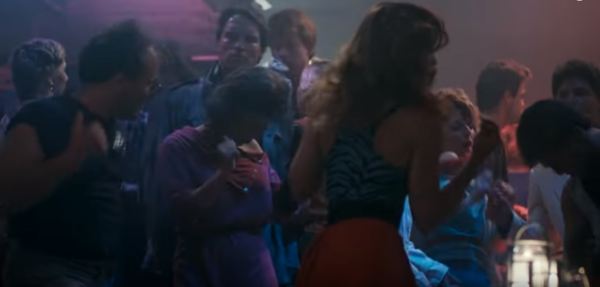 …just as the Terminator passes by.  Note:  No glowing eyes.
The Terminator fails to notice Sarah and continues searching the rest of the club.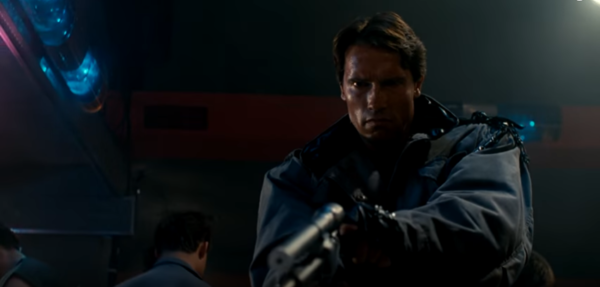 When the Terminator reaches the back of the club, it turns around, and that's when it sees Sarah.
Nit-picking section #3

When it finds Sarah, it pulls and racks the AMT .45 Hardballer Longslide "with laser sighting", and we see the red dot appear on Sarah's forehead.

Part 1:

Although the concept of laser sights on weapons is now part of pop culture (mainly due to this movie), the technology has improved significantly over the last 35 years.

In 2019, you can purchase a laser sight with a pressure switch, mounting hardware, and a solid-state laser diode that's the size of a pencil eraser, and all of this is standardized – you can purchase interchangeable batteries, switches, and mounting hardware from a variety of vendors.

In 1984, solid-state lasers didn't exist.  The one you see on Arnold's gun is a highly customized Helium-Neon (gas, optically-amplified) laser that requires significant energy.  The big tube on top of the handgun is actually JUST the gas laser tube.

You don't see any batteries, wires, or switches that you would see even on a modern laser sight today, and you don't see Arnold activate the laser, which means that this is obviously a semi-functional movie mock-up, with batteries and switches off-screen that you can't see.

Although this iconic weapon broke new ground in 1984, even then, we should see how the laser actually operates, rather than hiding parts of it out of sight.

EDIT:  Some research on the Internet Movie Firearms Database (imfdb.org) yielded the following:

Part 2:

As the Terminator aims the handgun at Sarah, it racks the slide in order to chamber a round, which also makes the weapon ready to fire by cocking the hammer as the slide moves backward.

As the AMT .45 is a single-action handgun, even if a round was in the chamber, pulling the trigger doesn't pull the hammer back.  On a single-action weapon, the hammer must be cocked manually – either by thumbing the hammer back, or by racking the slide – before it can be fired.

When you carry a gun in a holster (or just… in your belt…. which you should NEVER do….  unless you're a Terminator…. who we assume can't receive painful ballistic groin injuries…. ), you can carry it in several different modes:

Round chambered or chamber empty
Safety on or off
Hammer cocked or lowered

Each of these is a safety factor.

The hammer, in fact makes a huge difference for a single-action handgun compared to a double-action handgun.  On a single-action handgun, lowering the hammer practically disables it – as if the hammer was a safety.  On a double-action handgun, lowering the hammer simply means that the first trigger pull is slightly longer, but you can still pull the gun and immediately fire it.

These safety factors exist in order to prevent people from making mistakes with a loaded weapon.  For example, carrying a handgun chambered and cocked with the safety off could result in self-injury, or the unintended injury of a bystander if you accidentally bump in to something, and the gun fires.

PEOPLE… humans… who are prone to make mistakes and are self-aware of the fact that mistakes can happen, as well as the consequences of such a mistake, usually carry guns either chamber empty, or chambered with the hammer lowered, or the safety on, or both.

Which brings us to the point.  Why would a Terminator – a bulletproof machine that is unlikely to make mistakes – carry a weapon that isn't ready to fire?

In fact, we see the T-1000 carry his Baretta 92F, chambered, hammer lowered, safety off, and we see it simply draw its weapon and long-pull the trigger on the first round.

Arguably, Sarah would be dead if the T-800's weapon was ready to fire, and the Terminator didn't have to waste a moment chambering a round.

I'm DOUBLE nit-picking this because you see the Terminator draw its gun and simply shoot the first Sarah Connor, meaning, it was carrying a loaded gun, ready to fire.  You don't see it thumb the hammer nor the safety, nor rack the slide.  It draws and shoots "Sarah Connor #1" 5 times in rapid succession.

End of Nit Picking Section #3
Back to our topic… Here are some diversion, distraction, and evasion strategies:
A sound and light show, like at the Tech Noir club, should be enough to confuse a T-800. 

A decent outdoor PA system could be converted in to a virtual surround system – think ventriloquism for sound effects:  Even though there are three speakers in front of you, a computer can modulate the sound coming from those three speakers so that it seems like the "car explosion" is behind you. 

A computer could easily create random sounds at random positions (using virtual surround) as well as random flashes of light at random frequencies, for the purpose of disrupting a Terminator's tracking ability.
A simple road flare or flare gun might be enough to screw up "term-o-vision".  As a computer views anything that burns hot or bright, it has to make a decision about what it wants to watch – which part of the signal it chooses to interpret.  This is called dynamic range – the same feature that allows your cell phone to take a not-crappy picture in a variety of lighting conditions.  If term-o-vision is busy dealing with a "hot spot" such as a flare, it can't simultaneously process low-intensity details.  In essence, the hot spot creates more shadows, from the computer's perspective, causing it to lose or miss details that would otherwise be significant.
Chaff is like a grenade filled with tinfoil confetti, and is used by military aircraft to overload enemy radar.  The enemy's radar gets a strong reflection from the chaff, while the aircraft slips away undetected.  This evasion technique is especially useful against radar-guided missiles.

As with any computer, a Terminator's ability to make decisions about what action to take next is based on input, and chaff creates a tremendous amount of constantly-changing, extraneous data that must be processed.
Another way to potentially overload term-o-vision is to print life-sized pictures of the target and place them all over the place.  This would presumably cause the Terminator to immediately start shooting at each picture it sees – this will deplete ammunition, waste time, and ultimately confuse the Terminator.  This could also serve as an early-detection mechanism, as the Terminator would be deceived in to shooting at (or otherwise attacking) the fake target, thus giving away its presence and position.
Trick the Terminator in to thinking its mission is complete.  For example, if its mission is to terminate Sarah Connor, then faking Sarah Connor's death in a very realistic manner would cause the Terminator to believe that it's mission is complete, after which, it would probably go dormant, waiting to report to Skynet in the future.

When I say "realistic manner", Terminators are thorough and quite clever.  We can imagine that a Terminator, after seeing Sarah immolated in a house explosion for example, would dive right in to the burning wreckage in order to confirm the presence of a body with the same physical characteristics – size, weight, and perhaps even patches of unburned skin, hair, and clothing – that match those of the real target.

At the beginning of another Arnold movie, "Eraser", we see agent John Kruger (Arnold) "erase" his protectee and the girlfriend by swapping out bodies that he stole from the morgue.  He takes pictures of their "dead" bodies, swaps clothes, leaves the pictures, then burns the dead bodies in a house explosion, allowing the protectee and girlfriend to escape in to the depths of witness protection, corroborated by the police who show up just as the house explodes.  The last step is to swap out their digital records the next morning.

We've seen no evidence that Terminators have a working knowledge of DNA, so "confirmation" would be limited to physical observation, after which, it would believe its mission is complete.  Once the Terminator goes dormant, there's very little chance that it would find Sarah and go active again, and while dormant, it could be more easily "terminated".
Counter intelligence and misinformation.  Although this requires preparation, leaving behind false information would be an effective way to lead a Terminator away from the target, or in to a trap or ambush.

At worst, misinformation could buy some time to prepare, and at best, allows the Terminator to be steered in to a trap where it can be destroyed.

For example, knowing that the T-800 would try to obtain intelligence about Sarah, Kyle (if he had enough time) could have left behind a fake address book for it to find, containing a false address for "Mom's cabin". 

Or, knowing that the Terminator would eventually discover Mom's cabin, Kyle could have beat the Terminator there, removed Sarah's Mom, and left behind the high explosive pipe bombs which he and Sarah made instead.

A third form of this, is to provide the Terminator in the present, false information about the future, which we assume it will eventually relay to Skynet.  This might have the effect of tricking Skynet in to deploying its resources inefficiently, or attacking a resistance base that's really a trap.
3.3. Permanent Immobilization
Although not technically considered killing it, a T-800 could be permanently immobilized – for example, by temporarily immobilizing it with an electromagnet, then packing it in steel-reinforced concrete.
This approach is risky, because you have to guarantee that it absolutely can't escape, and that in 120 years, no one will ever accidentally free it.
Encased in steel-reinforced concrete. 

Remember that its biological shell will eventually rot off, giving the T-800 just enough wiggle room to hammer its arms, legs, and body against the concrete shell for years, or even decades until it can smash up the concrete enough from the inside in order to escape.

Alternating layers of welded steel plates and steel-reinforced concrete could be built up in to a shell that would be guaranteed to imprison a T-800 forever, but any error in the analysis, engineering, design, or construction of the concrete prison would result in the Terminator eventually escaping.
Based on events we see throughout the SCC series, Terminators weigh only slightly more than people of the same size, but they can't swim – they have no lungs nor any other hollow cavity, and can't float.

Therefore, you could sink one in the deepest parts of the ocean – for example, in the Mariana Trench in the south Pacific, at a depth of 35,000+ feet (about 7 miles) is as deep below the surface as an international jet-liner flies above the surface.

The Terminator would face crushing water pressure, perhaps even enough to destroy its computer chip, as well as daunting underwater "mountains" several miles high.

Is this enough to stop a Terminator?  It seems more like an evil trap thought up by a Bond villain, or perhaps the ending of an 80's horror movie, designed specifically to ensure that a sequel is possible.  There is no guaranty that the CPU will be destroyed, and it might take years, but it's not unreasonable to imagine that the Terminator might climb, slowly but surely, until it escapes.
Decapitation should result in the Terminator becoming immobile, as we see in T2, when Arnold's chip is removed.  However, it's implied in T3 that the head could continue to function independently, and perhaps eventually interface with other systems in an attempt to acquire information or remotely control robotic systems from the present.  In SCC, we see Cromartie's head (T-888) able to remotely-control its body.

The benefit of decapitation is that the chip and / or the head itself could be connected to a computer in the present, in an attempt to extract more detailed information about the Terminator's mission intelligence, as well as Skynet and its plans and capabilities.
The problem with permanent immobilization is that the Terminator remains active, which means that there are two ongoing risks:
The Terminator eventually gets free, and resumes its mission, or assumes modified mission parameters.  For example, if the 1984 T-800 was "permanently" immobilized, but escaped 10 years later, it's obvious mission would be to go after John, not Sarah.
Assuming it remains imprisoned, it could be discovered in the future by Skynet, where the Terminator passes along critical information that it acquired during its mission, allowing Skynet to launch a subsequent, more precise attack.
A better approach is to use immobilization as a means to destroy it completely (crush it, melt it, etc…).
3.4. Heat and Electricity
We can assume that the circuits inside a Terminator are electrically and magnetically (EM / EMI) shielded.
When a Terminator arrives from the future, we see significant electromagnetic activity, yet the Terminator itself is unaffected.
Also, it would be incredibly inconvenient for Skynet, if it's state-of-the-art infiltration unit could be disabled by a nearby engine starter motor or a $20 stun gun.  An unshielded Terminator would also need to avoid electric fences, welders, and radio towers.
Likewise, being electrically-shielded, it's easy to imagine that a Terminator could survive a direct, electrostatic discharge (ESD), such as lightning.  Although this would result in extensive burns to the biological matrix, and superficial damage to its metal frame, the electrical shielding ensures that a discharge, upon entering a Terminator's skeleton, would pass along the skeleton's surface, following the least-resistive path to ground (rather than through its center), where the electrons from the discharge exit the skeleton.
Any current also creates a magnetic field, which is where the EMI shielding comes in to play.  EMI shielding consists of an outer layer of material such as aluminum or copper, where the magnetic flux can travel more freely.  By travelling faster through the outer layer, the magnetic field is diverted from entering the inner core where the electronics are stored.
We've also seen a Terminator survive a fuel truck explosion that could easily reach 1,000 degrees F, so we know that it is heat-resistant as well.
Despite what we know about a Terminator's ability to resist heat and electricity, there are some strategies we could still employ in order to possibly stop, damage, or kill one.
3.4.1 Welding
In any electrical device, power in watts = volts * amps, which means that you can convert volts to amps or vice-versa, but power must remain constant.
A welder converts its higher-voltage, lower-amperage input power to a lower voltage with a higher amperage.
Lightning generators, such as Tesla coils, go the other way around.  They boost the voltage at the expense of amperage.
If you think of water flowing inside a pipe, voltage is like the water pressure, while current (amperage) is like the cross-section of the pipe – how much water can be delivered at a time.  When you put your finger over the end of the hose, this boosts pressure (voltage) but reduces cross-section (amperage), and the water travels farther.
Like your finger over the end of a hose, when we talk about being able to create an electrical arc, the trade-off is between distance, because more voltage can break down the insulating property of air (dielectric) over longer distances, versus delivering more water / electricity to the target, because current is higher at lower voltages.
At the atomic level, metal is a matrix of atoms that basically float in a sea of electrons, which is why metals easily conduct electricity.
When electrons move quickly through metal due to higher current, it creates heat energy, and the atom-grid expands until it melts in to an atomic soup.  More current means that any given electron travels faster through the metal and generates more heat.  Faster electrons = more heat = more damage.
When current meets resistance (such as air), it requires more voltage to overcome the resistance, but the side-effect is that the free flow of electrons is now limited by the cross-section of the arc, and electrons move more slowly through the metal itself, except for the small area where the arc originates.
The remaining electrons that would normally be free-flowing (creating heat in the process), are "milling around", waiting to travel through the arc, like people waiting to get through the doors at a Black Friday sale.
To use electricity as a weapon, the goal would be to pump enough amps through a Terminator, that it would quickly be melted in to slag, or at least damaged to the point of immobility.
A power source in the 120kW range would be capable of delivering 10,000 amps at 12 volts – plenty of energy to instantly melt or fuse a terminator's skeleton.   However, your entire house probably runs on about 15kW, so having 120kW available on hand would require lots of batteries, or a generator, or both.
For example, it's possible to build a circuit out of approximately 20 car batteries @ 500 CCA (Cold Cranking Amps) that would be capable of delivering 12V @ 10,000 amps for a very short period of time, as any battery with 10,000 amps flowing through it would almost instantly explode.
The good news is that the resulting explosion of plasma, molten lead, and acid vapor should be enough to do some pretty serious secondary damage as well.
The bad news is that anything necessitating 20 car batteries is not a mobile weapon, but it could be deployed at choke points, so that a Terminator would be instantly melted (and then burned with plasma and doused in acid vapor and molten lead).
The other obvious welding strategy would be to try to set up a trap, where a part of the Terminator's skeleton, such as a hand or foot, becomes welded to a fixed point, such as a railing or handle.  This requires a burst of high voltage, followed by a high-amperage discharge.
3.4.2 Microwaves
At first, blasting a Terminator with microwaves might seem like a good idea, because we've all grown up knowing not to put anything metal inside a microwave oven.
However, the reality is that microwaves would be more effective against people than against a Terminator.
When you put food in a microwave oven, it gets bombarded with high-energy microwave photons that cause water molecules within the food to vibrate, which then heats up your food.
When you put a bare metal object in a microwave, such as a fork, the microwave photons do not get absorbed, as there is no water to absorb them.  Instead, they end up bouncing around, hitting the metal occasionally, which displaces a few electrons at a time, until a static electric charge builds up on the surface.
When a strong enough charge builds up, it discharges, arcing through the air from the fork to the nearest metal point inside the microwave.
Just as with other high-voltage discharge, the arc itself melts or even vaporizes a small bit of metal, but not enough to significantly damage something as durable as a Terminator.
In fact, its biological shell would absorb all of the microwaves – you would simply cook its flesh, and there would be no electrical discharge.  For example, if you cook a meat pocket in the microwave, it comes with a foil shield that doesn't arc.  Rather, it reflects microwaves back in to the crust so that it gets nice and crispy.
Humans, on the other hand, are 60% water, and a microwave projector would be very effective at cooking them.
As a matter of fact, microwaves and other forms of harmful-to-humans radiation, including nuclear radiation, would be an effective way for Skynet to guard any facility against those nosy humans from poking around.  Assuming, of course, that the room where the Terminators are kept is shielded.
3.4.3 Inductive Heating
When metal enters a magnetic field, in addition to a flurry of electrons whizzing around inside the metal, it stretches slightly.
When the magnetic field is removed, it returns to its normal shape.
Induction heating uses a rapidly-alternating magnetic field that stretches metal, first in one direction, then in another, until the metal heats up.
Although ferrous metals such as steel work best with induction heating, working with other metals is simply a matter of frequency and power.
This technique is used for all sorts of things, including industrial applications, where metal is heated or even melted extremely quickly.
As with welding, an inductive heating device capable of melting a Terminator would not exactly be portable, but could be deployed as a trap or at choke points.
For example, you could rig up an industrial induction heating coil, so that if a metal detector, acting as a switch, senses a large concentration of metal, it triggers the coil, instantly frying and eventually melting whatever metal object is in front of it.
3.4.4 Molten Metal
At the end of T2, we see both the T-1000 and the T-800 destroyed in a vat of molten metal.  We don't know what kind of metal, but we can assume that the temperature is in excess of 2000 degrees Fahrenheit.
In an industrial facility, metal is heated either in a furnace, which uses propane or coal mixed with a lot of oxygen to reach such high temperatures, or by an induction heater.
In either case, just keeping a vat of molten metal handy in case you need it, would require a lot of energy as well as ongoing maintenance, and simply wouldn't be practical.
It might seem obvious, but molten metal destroys a Terminator by first burning off its biological covering, and then by quickly transferring a tremendous amount of heat energy in to its skeleton.  The skeleton itself quickly heats up and melts, and finally, the Terminator's CPU, power source, and other internal components either burn or melt.
A more practical approach is to store the energy in chemical form.  Incendiary compounds like thermite can release a tremendous amount of heat energy relatively quickly.  Likewise, conventional explosives can be used to instantaneously melt metal (just as with the liner in a shaped charge).
3.5. Industrial Crusher / Press / Shredder
At the end of "The Terminator", Sarah finally kills the T-800 by crushing it in a hydraulic press.
Similarly, a car crusher is a device that turns a typical automobile in to a cube.
The problem with these devices is that they don't operate very quickly.  At the end of "The Terminator", Sarah is only able to kill the Terminator because it has already been partially dismembered by Kyle's pipe bomb, and it's forced to crawl after Sarah (herself, injured) as she crawls through the press.
A fully-functioning Terminator would simply be able to avoid a press or car crusher, unless employed at a choke point, where the Terminator is forced to make a decision to pursue its target through a narrow passageway, or retreat and find another path.
Although large industrial shredders are capable of shredding a car (or even a Terminator), as with all large machinery, carrying one around with you is a problem.
Like a car crusher, this could be employed as a trap at choke points, and maybe wired to a metal detector.  If the metal detector detects metal, a trap door opens, and who (what) ever is standing there at the time gets dropped in to the monster you see above.
3.6. Gravity Trap
In short, a gravity trap is a trap that uses gravity.
Less short, there are several forms of gravity traps, but they all use gravity to accelerate a mass, which is then used either directly or indirectly against the target.
As we have discussed, a Terminator weighs only slightly more than a person of equivalent size.  This is considered "canon" within the Terminator universe, because the resistance could simply weigh a Terminator on a simple bathroom scale to prevent its infiltration.
And, of course, if Terminators were heavier than people, a simple break-away floor would be a sufficient defense, which is also the first kind of gravity trap.
If we take this concept and modify it slightly, we can use a "Terminator detector", such as a metal detector as the trigger.  Now, when a significantly-metallic person walks across a trap door, the metal detector senses it, trips a solenoid, the solenoid pushes (or pulls) a lever, the lever releases a catch, which is no longer blocking the trap door, which opens downward.
With luck, the Terminator falls in to a pit of carbide spikes, or thermite, or perhaps an industrial shredder.  This is known as a pit trap.
The remaining examples of gravity traps will assume that we use the same detector / trigger system, which mechanically releases the device, at which point, gravity takes over.
Unlike our first gravity trap, these other types use an external mass, rather than the Terminator's own mass, to actuate the trap.
For example, if we assume that the hydraulic press from "The Terminator" operates in the 2000 psi (pounds per square inch) range, the press itself would be anywhere from 100 to 150 tons total crushing capacity, depending on surface area, design, and other factors.
If we drop a car weighing 4,000 pounds from a height of 20 feet on a Terminator's head, and we assume a deformation distance of 3 feet, that gives us only about 13 tons of force.  We need a LOT more weight, height, or both.
A 6 x 6 x 6 foot block of concrete, however, would weigh about 16 tons at 150 lb/cuft.  If we drop this from 20 feet with a crush depth of 3 feet, this gives us a crushing force of about 108 tons, which is right on the mark, and it would take only about a second to reach the target – not enough time for the Terminator to move out of the way.
Let's say that you don't happen to have 216 cubic feet of concrete.  All Home Depot had was 30 cubic feet (equal to a cube, 3.1 feet per side).  You would have to drop it from a height of 133 feet to get the same effect, but now it would take almost 3 seconds to fall, and we can imagine that this is plenty of time for the Terminator to react.
In either case, this is our second kind of gravity trap, called a deadfall trap, where a significant weight falls directly on the target, hopefully crushing it.  Obviously, you need to position the deadfall over a hard surface, such as a concrete slab, so that the force doesn't simply bury the Terminator instead of crushing it.
If you recall the scene in "Return of the Jedi", where the Ewoks kill an AT-ST "chicken walker" with two logs that swing down from the tree tops, that's called a pendulum trap.  However, these are slower than a deadfall trap, and more complicated.  The terminal force is about the same, because gravitational energy is converted to lateral force, but the impact is sideways instead of vertical.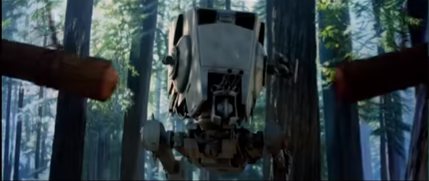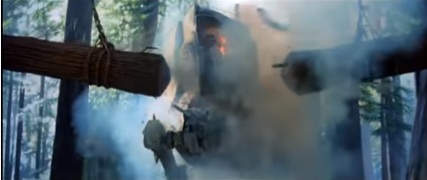 Getting two things to hit at the same time is always more complicated than getting ONE thing to hit the target.  However, even with a single pendulum, you have to have an anvil on the other side, or the pendulum would simply knock the Terminator around a bit, instead of crushing it.  With a deadfall, the ground acts as the anvil.
Our last kind of gravity trap is a sling or snare, where the falling weight pulls a steel cable with a loop at one end.  As the weight falls, the loop tightens around the Terminator's leg or body, which is then hoisted violently in to the air.
A snare hoists the Terminator in to the air, for the purpose of immobilizing it.  We have to assume that the Terminator would shortly escape, so someone should be standing by, ready to burn it with thermite or shoot it with IAP rounds.  Or, maybe the thermite is built in to the snare trap, where the Terminator is first immobilized, then showered with burning thermite.
A sling is just like a snare, but uses much more weight, operates at higher velocities, and is intended to be destructive.  Rather than simply hoist the Terminator, a sling would quickly whip it against a hard object, or even the cable itself might have enough force to dismember it.
The difference between the two is primarily the weight, and the direction of travel.  For a snare, 1,000 pounds would be more than sufficient, but for a sling, you would want that car we talked about earlier (4,000 pounds).  Also, the snare would actuate straight upward, but the sling would be designed so that the cable pulls the Terminator in a specific direction – toward a hard rock or some carbide spikes, etc.
3.7. Sniping
The closer you get to a Terminator, the less likely you are to win a fight with one.
If you're unlucky enough to be within arms reach, it can easily grab you, crush you, or smash you with its robotic endoskeleton.
If you're in close proximity, it will use a variety of weapons to try to kill you, and if you run, it will relentlessly pursue you.
However, we have never seen any Terminator possess the ability to hit a remote target at long ranges, accurately.
The one thing we know is that if YOU can see a Terminator, IT can see you.
Therefore, your two advantages are time and distance:  time provides you the opportunity to mount a defense, and distance buys you time.
The ability to engage accurately at a distance, sniping, gives you the ability to put a SLAP round through a Terminator's skull before it can react, and well outside of its attack range.
Anyone with a decent .30 caliber hunting rifle and moderate firearms experience can get accurate hits out to about 300 yards (900 feet).  With training, practice, and an accurized weapon, repeated hits at 400 or even 500 yards are possible.  A trained sniper with an accurized weapon and suitable optics can easily hit accurately at 800 yards, which is near the ballistic limit of a .30 caliber rifle round.
Although stepping up to .50 caliber provides greater range, the larger caliber is also heavier, and thus more stable in flight against windage over a longer distance, and of course, a heavier bullet has a superior terminal effect.
Compared to a shotgun slug, a .50 Browning Machine Gun (BMG) round has double the mass and double the velocity (squared), or 8 times the kinetic energy, making it a devastating weapon.
Although civilians would have difficulty obtaining a military M2 machinegun, there are plenty of .50 BMG hunting rifles floating around in the civilian market, despite the fact that direct sales are banned in some states.
Because they are bulky, heavy, unwieldy to shoot, and have a small magazine capacity, these huge rifles are only effective at longer ranges.  In fact, some hunting rifles are single-shot only, requiring the shooter to remove the bolt in order to load the next round, which is not very convenient in close combat.
Assuming you manage to escape a Terminator's direct pursuit, and also manage to obtain a .50 cal hunting rifle, you could simply wait for it to show up at a known location, where with some skill and practice, you are able to perforate its head at a relatively safe distance.
Which, is exactly not what Derek did when he engaged the "Bedell" Terminator. 

Rather than use his .50 cal rifle with long-range optics, superior range, and extreme terminal ballistics to engage the Terminator from a fixed location with a superior view of the "battlefield", he takes one shot at the Terminator, then blindly chases after John, Bedell, and the Terminator, through a tropical environment where the rather large weapon would tend to snag on every plant and tree branch. 

Finally, he engages the Terminator at a safe distance of several hundred… inches. 

We see the unwieldy nature of a .50 caliber rifle, as Derek fires wildly, somehow luckily landing several body shots, before the Terminator falls in to the tar, and Derek takes a final, aimed shot at the head.

Don't be like Derek.  Distance = safety.
3.8. Defense In Depth
So, you've decided to make a last stand against a Terminator.
Here are some tips for not dying.
If the Terminator knows where you are, be prepared for it to drop a helicopter on you, or blow up a bus or something.  So the first defensive measure is to trick it in to thinking that it's pursuing you dynamically, rather than walking itself in to a trap.
Next, you want to be able to predict the direction of the Terminator's approach, which means using buildings and natural terrain to control its approach.
Using magnetic sensors and metal detectors gives you realtime information without having to risk giving away your position.
Deploy snipers in order to engage the Terminator outside of its effective kill range.
If the Terminator makes it past the snipers, make sure there is a mine field of traps, including mines, shaped charges, explosively-formed penetrators, disruptors, and thermite charges.
Your defensive team should have a clear line of sight so that they can begin to engage the Terminator with IAP rounds, and RPGs (if you have them)
If the Terminator makes it past all of that, set up traps at choke points, such as bunker entrances.  Go all-in with a combination of defensive measures, including dead drops, thermite, and pit traps.
Use long, winding hallways with multiple man-trap checkpoints.  Each checkpoint gives you the opportunity to detect, trap, and kill a Terminator.
Install batteries of EFPs and disruptors that can be remotely-triggered or set to an automatic, motion-activated mode.
Make sure your final defense includes close-combat weapons that are known to be able to penetrate a Terminator's armor, including IAP or HEI/AP ammunition.
Finally, make sure you have an egress route.  If necessary, get out, and blow up the bunker behind you.
This kind of strategy is called defense in depth, where you create layers and layers of security, rather than rely on a single perimeter.
In the future-flashback from "The Terminator", we see Kyle return to base, and then a short while later, the infiltrator arrives.  Although the resistance fighters detect it quickly (barking dogs), it kills at least a dozen people before anyone can take action.
In theory, once the infiltrator made it past the one perimeter checkpoint, it had unlimited access to the interior.
A better approach is to have multiple checkpoints, and maintain multiple interior zones, each with its own secure perimeter.  If the infiltrator breaches one zone, the other zones are still secure.
3.8.1 Man Traps
Likewise, the use of a man trap prevents ingress or egress without authentication.  A man trap consists of two interlocked doors, such that only one of them can be opened at a time.  Here's how it works:
The outer door opens, and the inner door remains closed.
The person-or-infiltrator enters the man trap.
The outer door closes, trapping the person-or-infiltrator between the inner and outer doors.
If the person is authenticated, the inner door opens, and the person enters the bunker.
While the inner door is open, the outer door remains locked.
If the person turns out to be an infiltrator, it now finds itself trapped between the two sets of locked doors – it can neither enter the bunker, nor exit the man trap, and at this point, the humans can do something really destructive to it.
We don't see any evidence of man traps in the future, but knowing that Terminators and Infiltrators exist, building man traps is a necessity.
3.8.2 Fields of Fire
The other mistake we see in the future flashback is that the resistance base isn't set up to maintain fields of fire.
A field of fire is basically a direction that is safe to shoot in, knowing you won't hit civilians or other soldiers.  When an enemy enters your field of fire, you shoot it.
In a bunker, ideally, multiple fire teams should be deployed with overlapping fields of fire so that they can instantly engage an infiltrator, in what is known as a "kill zone".
Kill zones should be augmented with automated defenses, such as thermite, EFPs and disruptors.
In a kill zone, the enemy is prevented from attacking as well as retreating, while completely exposed to attack.
Outside the bunker, using terrain and buildings to control the Terminator's approach ensures that it has to pass through at least one kill zone before it even gets to the bunker.
4. Conclusion
Killing a T-800 Terminator requires some preparation:
Rifles or shotguns with armor-piercing (AP) or Incendiary Armor-piercing (IAP) ammunition.
High explosive devices, including shaped charges, EFPs, and disruptors
Detection, including magnetic and metal detectors
Traps that use high-amperage to weld or melt a Terminator, or that drives an induction heating coil.
Defense in depth, including snipers, fields of fire, kill zones, and man traps
You will need to mislead the Terminator with misinformation, and conduct counter-intelligence and counter-surveillance operations in order to identify and lead it on.
Always plan an escape route, and prepare countermeasures such as chaff, flares, and even fake pictures of the target in order to confuse the Terminator if it pursues you.
Will you win the battle for the future?  Only time will tell (yes, that pun sucked).